(Article begins on the Home page HERE)
Records Fall, Teuton Conquers All Hemis at the Dutch Classic
MOHNTON, Pa. – At the Auto-Plus NHRA Nationals at Maple Grove Raceway, three separate elapsed time records were set in Top Fuel, Funny Car and Pro Stock Motorcycle in the cool, fall conditions at The Grove. The following weekend at the track's Pennsylvania Dutch Classic, the Sportsman racers participating in the Dutch picked up where the Pros left off. Below is a shot of the very-active tear-down barn.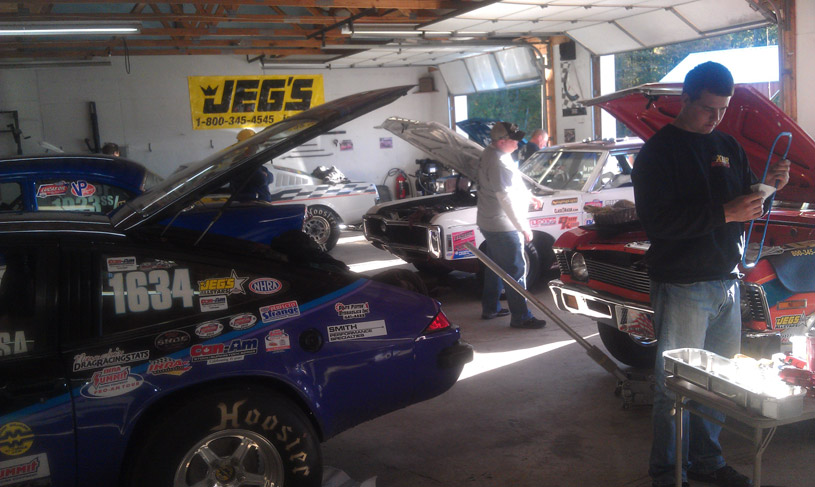 The following records were set and backed up at the 41st annual Pennsylvania Dutch Classic on Thursday October 11th:

E/S 1043 Doc Horn – 11.02
AA/S 1587 Don Fezell – 8.89
K/SA 1021 Gene Monahan – 11.51
A/SA 1471 Ken Keir – 9.80
H/SA 1759 Anthony Bongiovanni – 11.15
R/SA 1634 Briane Philbrick – 12.89
O/SA 144 Bob Bender – 12.45
SS/OA 1923 Rich Diorio – 11.38
SS/DM 3189 Tom Dawson – 9.06
SS/LA 1680 Carl Milano – 10.54
GT/A 1197 Jim Evanuik – 8.86
SS/CA 2074 Brian Oakes – 8.89
SS/BA 17 Dave Thomas – 8.82
Then on Saturday, October 13th Joe Teuton and his 1968 Barracuda was the last one standing at the end of the day, winning the Hemi Challenge at The Dutch. Teuton, who came up for the big event from Schriever, La., beat Tyler Hard in the final with a pass of 8.479 seconds at 156.84 mph. Hard, a local favorite who resides in Harrisburg, Pa., went 9.331 at 104.15 mph in his '68 'Cuda.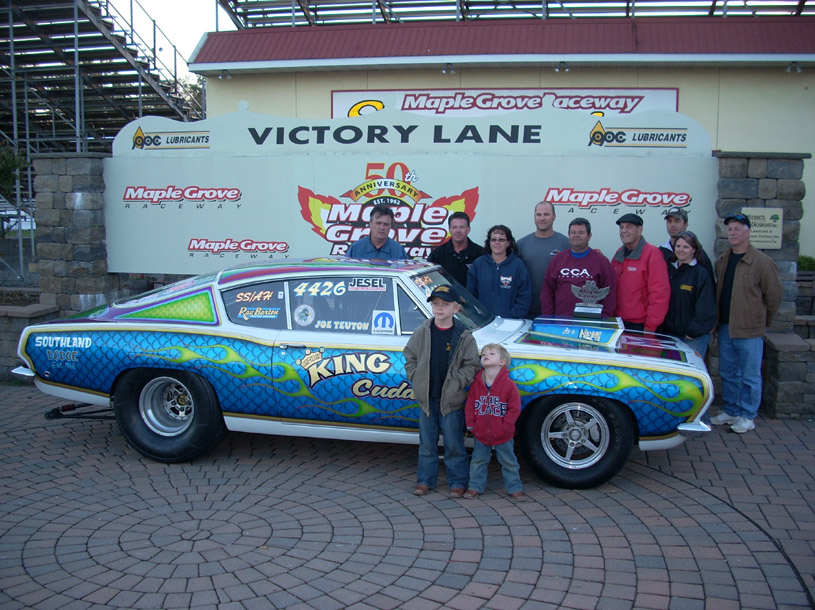 It was a good thing Teuton came out on top. The NHRA South Central Division was having a Lucas Oil Drag Racing Series event this weekend at Houston, but Teuton came North instead for this race. "Simply, it's y'all," Teuton said of his decision to race at Maple Grove. "I missed my points race to come up here." Teuton qualified seventh with a pass of 8.767 seconds, while Hard had the pole at 8.265 and earned a bye in the first round.
In the first round, Teuton faced Jim Daniels. It was a difficult assignment as Daniels has dominated this race in recent years. However, Teuton's Barracuda got the win with a .015 reaction time that turned into a holeshot win with a pass of 8.496 seconds at 157.98 mph. Daniels was .107 off the line and ran 8.748 at 158.69.
The second round featured a race with defending champion Gary Wolkwitz (Annandale, N.J.). It was a double red-light start, but Teuton got the nod as his -.008 start wasn't as quick as Wolkwitz's -.015. Teuton then had a bye into the final.
Hard's top qualifying time gave him a bye in the first round. In the second round he faced Jim Pancake (Delaware, Ohio). It turned out to be another easy round as Pancake got the jump at the start, then stalled about 150 feet from the start.
In the semifinals, Hard again received some help. Jeffrey Kobylski (Macomb, Mich.), last year's runner-up, left the starting line too early and Hard advanced with the foul. A "race within a race," the Hemi Challenge is part of the Pennsylvania Dutch Classic weekend at The Grove. This year's edition drew racers from as far away as the West Coast and Canada.
Text written and photos submitted by Evan Jones