(Article begins on the Home page HERE)

ATI Transmissions, Converters, Flexplates And Dampers Were Part Of History and Records—Twice In One Night!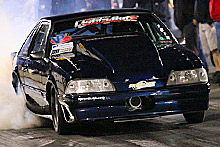 QUICKEST SIDE BY SIDE X275 PASS EVER
Congrats to ATI customer Rich Bruder with his EIGHTH X275 win in a row at the Yellow Bullet Nationals at Cecil County Raceway. In the "all ATI" semi-final round, Dean Marinis and Rich Bruder made history with the quickest X275 side by side pass in history with Dean running a 4.66 to Rich's 4.65, for a margin of victory of just .017! These two guys are in a class of their own when it comes X275 Racing.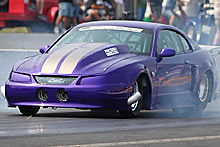 QUICKEST SIDE BY SIDE PASS FOR OUTLAW 10.5
Outlaw 10.5 racer Billy Gordon took his Mustang to the late night final round but had to get out of the run earlier than Tim Lynch and settle for a R/U finish. Not a bad showing for the guy that does it all on his own! Gordon and Chuck Ulsch made history with the quickest side by side pass in 10.5 history in the semis with Gordon going 4.160 @ 189 to Ulsch's 4.165 @ 184. Congrats to all the ATI Customers who did well this weekend at the YB nationals.


NHRA NATS AT INDY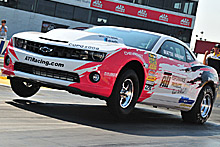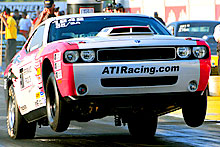 ATI's own COPO Camaro with Marty Rinehart behind the wheel, was quickest and fastest in his class with a 8.66 @ 158 MPH. In Stock Elminator, J.C. Beattie Jr had the quickest and fastest V8 Drag Pack Challenger with a 9.815 @ 137 MPH.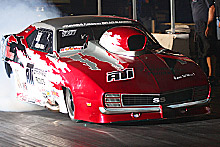 CHRIS RINI TAKES WIN #3
At the NMCA Muscle Car Nats in Milan, Michigan, ATI's Chris Rini, qualified No. 1 in Pro Street with a 5.99, and went on to collect his third win of the season and some valuable points toward collecting another series title. Rini took the win in the final over Jim Widener when Widener was forced to lift early, allowing Rini to capture the win with an off-pace 6.72.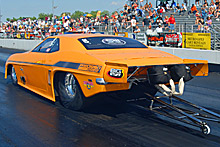 JEFF LUTZ "LOCKS UP" A NEW PERSONAL BEST
Jeff Lutz set a new personal best during NMCA Pro Street qualifying at Milan. Lutz went 6.13 @ 245.90 MPH with an ATI Superglide and ATI Outlaw Lock-Up Converter in his Pro Street Camaro.