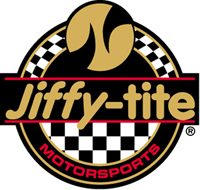 Jiffy-tite Inc. is an OEM supplier of fluid connection systems for the automotive industry and is the OEM's choice for plumbing connections on brands all over the world. There are over 300 million Jiffy-tite devices in service in vehicles worldwide including Chevrolet, Ford, Cadillac, Chrysler, Mercedes-Benz, Harley Davidson, Caterpillar and more.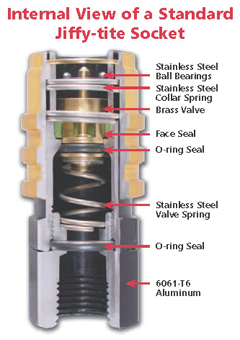 Jiffy-tite's Motorsports' product line includes a unique line of Quick-Connect / Quick-Disconnect Fluid Fittings. These fittings cover a variety of different sizes and options for engine & transmission oil, engine coolant and fuel applications. They allow for no-tools assembly and disassembly and are available with valves to prevent any fluid loss. Jiffy-tite fittings are available for use with engine oil, water, transmission fluid, brake fluid, nitromethane, ethanol, methanol and alcohol
Jiffy-tite's revolutionary Quick-Connect Fluid Fittings provide unsurpassed performance under extreme racing conditions. Made of lightweight, 6061-T6 aluminum, brass valves, and stainless steel ball bearings, they are corrosion resistant for extra-long life.
Jiffy-tite is the only Quick-Connect Fitting on the market today approved for use in all categories of NHRA and IHRA. They are also accepted for use in the SCCA. There is a Jiffy-tite Quick-Connect Fluid Fitting available for all water, engine oil, transmission fluid and most fuel applications. They are used by Pro Stock Champion Warren Johnson as well as the Frank Hawley Drag Racing School.
For more information about Jiffy-tite's products and where to buy them, click HERE. To download a .PDF of the Jiffy-tite catalog, click HERE.