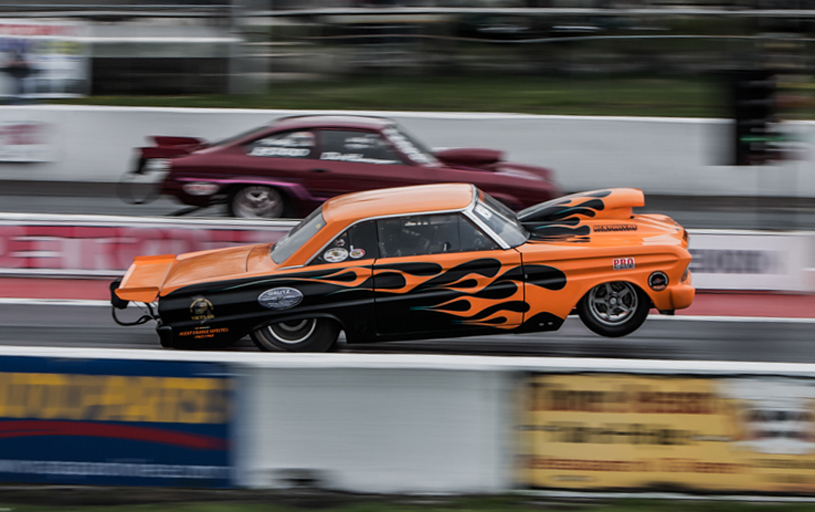 Our friend and hard-core Michigan bracket racer Vince Porcelli checked in recently to let us know how his 2014 season went, and it sounds like it went pretty well! Said Vince, "In 2014 we won the Top ET Championship at Ubly Dragway in Ubly, MI. We were the Opie Top Dawg winner for the 5th time in a row at Lapeer Dragway in Lapeer, MI. We were on the Ubly Bracket Finals team for IHRA in Martin and got down to 3 cars and red lit." That's Vince in the near lane in the high-flying Falcon.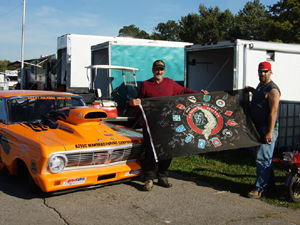 Vince continued, "The car ran a best 1/4 mile of 8.14 @ 165mph and the 1/8 mile at 5.15 @ 132mph with our small block Ford 351 Windsor Stroker. For the 2015 season we are building a new engine and using the one we have now for a back-up. The new engine will have some pretty trick stuff like a sheet metal intake, Danny Bee belt drive, dry sump, Ford Aussie D3 pro stock heads, among lots of other things. With the new engine we're hoping to see about 1,000 horsepower naturally aspirated with a Pro Systems carb. If everything goes as planned, we're looking for some 7 second passes on motor. We're in the process of assembly at this time and should be on the dyno by the middle of January if not sooner."
Great job, Vince! Keep us posted about how you're doing in 2015.
NHRA Dodge Nationals at Maple Grove Raceway, September, 2017.
NHRA D1 Bracket Finals at Numidia Dragway, September 2017.
NHRA Summernationals at Englishtown, June 2017.
Memorial Weekend Shootout at Numidia Dragway, Numidia Dragway, May 27th, 2017.
More event coverage from 2017, 2016, 2015, 2014, 2013 and 2012 is on the Dragtime News On Location main page.
Visit the
Tech, Tests & Installs main page.
Visit the
Bracket Racing 101 main page
.