While most of the focus of drag racing in Arizona was on the recent NHRA National event being held at Chandler's Wild Horse Pass, the racers of the American DRAGCAR series filed into Tucson's Southwestern International Raceway on the morning of Saturday, February 21st for the Micro Import Service Inc. Southwestern Championship Series Season IV opening event that was blessed with beautiful weather and a track that was outstandingly manicured. Some racers had some snags with their cars during qualifying but everybody managed to make the first round eliminations call when all was said and done.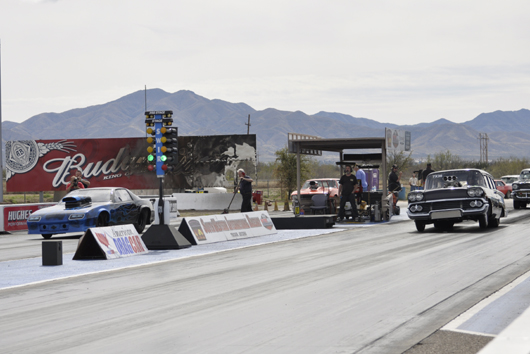 Jeff Morgan grabbed the top DragSport qualifier spot with his 8.924 effort while Geanine Ballard settled for 2nd with her 9.172 performance. Mark Ballard fell to 3rd with a 9.278 and Daryl Amans was close behind in 4th with his 9.287 while Joe Dominguez in his new Opel GT rounded out the top 5 with his 9.600 performance.
Eliminations started out with some interesting pairings as the two Vegas of the show faced off with one another. Matt Ballard took a 6 hundredths RT advantage on the line against Marvin Wolfmeier and held it all the way to the stripe for the round win with a 10.498 on a 10.50 over a 10 943 on a 10.95. Then came the 9.30 heads-up pairing of Mark Ballard vs. Daryl Amans. Amans took a healthy reaction time advantage off the line but ran an off pace 9.403 as Ballard charged past with a 9.243 for the round win. Eventually the round closed out with the 2014 WHCS Rookie Of The Year, Rochelle Smith, putting the upset on the 2014 DRAGSTAR, Jeff Sefranek. Sefranek managed the better light but Smith's 12.381 on her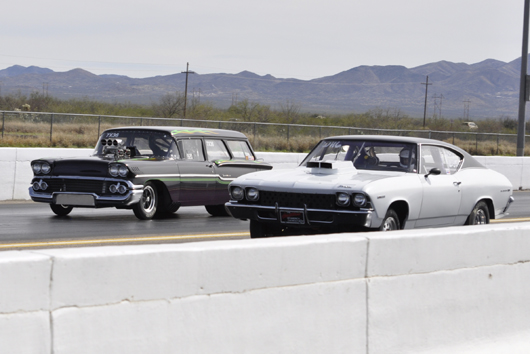 12.35 adjusted index held off the 11.399 on an 11.25 attempt.
So the stage was already set for a possible Ballard win as the right side of the ladder consisted only of the 3 Ballard entries, but they would have to battle with each other for that spot in the final, and first up for 2nd round was the father/son battle of Mark Ballard vs. Matt Ballard. Pops can say that he schooled the boy but it wasn't that clear at the finish line until the boards lit up with the win light in his lane. The elder Ballard did take the reaction time advantage with a nice .017 light but the youngster's .026 was nothing to wave aside as the big Delray chased the little Vega down the quarter mile distance. After they crossed the finish line and the dust settled, Mark's 9.256 on a 9.20 glowed as a win over Matt's 10.557 on a 10.50, and by a mere 1 hundredth of a second. Then came the battle of the rookies as Rochelle Smith, 2014's WHCS Rookie Of The Year faced off with Doug Woods, 2014's SWCS Rookie Of The Year. Woods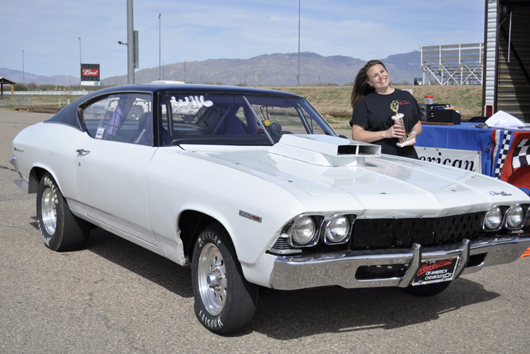 suffered an index penalty in first round and ran a bit off index as Smith hammered out a fine .013 light to give chase and took the win with a 12.42 on her 12.35 over a 14.36 on a 14.20 attempt. Geanine Ballard ran out her bye run to close the round and lit the boards with a 9.256 performance, matching exactly to the thousandth what Mark Ballard had run minutes prior, and these two would meet in the next round. So the two remaining Ballards would face off in the semifinals on the same 9.20 adjusted index after both had just run 9.256's. How cool is that?
The semifinals opened with rookie Rochelle in her Chevelle taking on the well seasoned Jeff Morgan in his altered T. But you can never count anybody out in drag racing and Smith pulled off another upset as she took a 14 thousandths reaction time advantage off the line and held on for the win with a 12.370 on her 12.35 over Morgan's 8.928 on an 8.90 charge. Then came that heads-up Ballard/Ballard showdown which was reminiscent of a blown gas funny car battle of the '60's with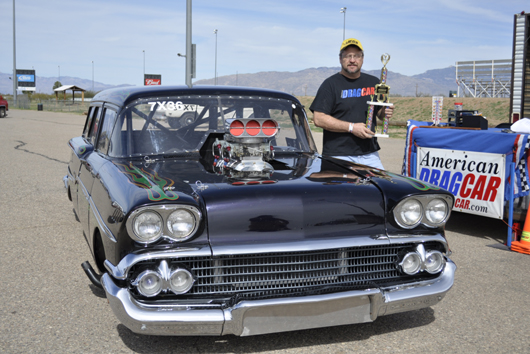 both cars having blown big block Chevy engines spitting fire through zoomie pipes just behind the front tires. Geanine did her job by taking a 15 thousandth lead off the line but her Camaro slowed slightly with a 9.270 performance while Mark's wagon picked up and drove past to take the stripe with a solid 9.214 blast.
So there it was, King Mark would face off with Rookie Rochelle for the final round and both cars were so evenly matched it would all likely be up to the drivers to do their jobs. Mark Ballard actually carried with him a slim 3 thousandths performance advantage going into the final as he had just run .017 off his adjusted index while Rochelle Smith had run .020 off hers but experience could count for some advantage as well, and that appeared to be the case as Ballard's .087 reaction time advantage was decisive and Smith's 12.303 on her 12.35 was not enough to hold off the charge of the king size Chavy wagon as it flashed past and took the stripe and the win by only 26 thousandths of a second with a 9.214 on the 9.20 adjusted index.
So Mark Ballard took home a cool $400 to help him recoup his recent drive axle repairs and the Exterminator trophy to help remind him what it's all about. He also takes the early SWCS season points lead while Rochelle Smith captured her first final round trophy ever with her Runner-Up finish. And along with her 2nd place standings in the points, and her $125 prize, Smith also earned the Best Reaction Time Of Eliminations award with her .013 in 2nd round and receives a free race entry. Matt Ballard also collects a free race entry with his .083 2nd round Best Losing Package.
Quarter-finals:
W: Mark Ballard, '58 Chevy Delray, Tucson, AZ., Index 9.20, RT .017, ET 9.256
L: Matt Ballardl, '72 Chevy Vega, Tucson, AZ., Index 10.50, RT .026, ET 10.557
W: Rochelle Smith, '69 Chevy Chevelle, Glendale, AZ., Index 12.35, RT .013, ET 12.424
L: Doug Woods, '86 Chevy Corvette, Tucson, AZ, Index 14.20, RT .162, ET 14.367
W: Jeff Morgan, '27 Ford Model T, Tucson, AZ., Index 8.90, RT (-.303), ET 8.983
L: Scott Niles, '73 Dodge D100, Vail, AZ., Index 11.15, RT (-.122), ET 11.210
W: Geanine Ballard, '67 Chevy Camaro, Tucson, AZ., Index 9.20, RT (-.016), ET 9.156
L: Bye
Semi-finals:
W: Rochelle Smith, Index 12.35, RT .073, ET 12.370
L: Jeff Morgan, Index 8.90, RT .083, ET 8.928
W: Mark Ballard, Index 9.20, RT .063, ET 9.217
L: Geanine Ballard, Index 9.20, RT .048, ET 9.270
Final:
W: Mark Ballard, Index 9.20, RT .153, ET 9.214
L: Rochelle Smith, Index 12.35, RT .240, ET 12.303