American DRAGCAR was back at Southwestern International Raceway on March 7th for the Micro Import Service Inc. Southwestern Championship Series Season IV Race #2. American DRAGCAR welcomed a number of new racers and members at the SWCS Race #2 and veteran member Jeff Morgan showed up with his new rear engined dragster while giving the altered a bit of a break, or was this just to throw off the competition instead?

After two rounds of qualifying were complete, DRAGCAR's first and only 6 second car lead the field as Trish Williams returned with her TD/Z8 dragster posting a 6.946 new best ever DRAGCAR ET. That moved Geanine Ballard's 9.118 into the #2 spot while Mark Ballard held onto 3rd with a 9.184. Larry Cannon was 4th with a 9.230 and Ron Shelly rounded out the top 5 with a 9.585 performance. This officially makes DRAGCAR's quickest top 5 to date.

To start the excitement for 1st round, Ron Shelly and Joe Dominguez opened eliminations with an all-out, heads-up, no-breakout 9.60 indexed Pro style drag race. Vega vs. Opel, big block Chevy vs. small block Chevy. Both racers qualified with 9.58s but Ron took the advantage off the line with a killer .007 light and stretched out his lead to more than a tenth of a second with a 9.64 over Joe's 9.75. Nick Micale looks to finally be back from his long string of hard luck as he knocked out an 03 light to get the advantage over Marvin Wolfmeier and took the win by 5 hundredths with a 9.95 on a 9.90 over an 11.08 on a 10.95. Paul Polito then took the win from Tim O'Moore with nearly identical reaction times and a 10.757 on a 10.75 to Tim's 9.857 on a 9.80 adjusted index. And the closest race of the day came in first round when Trish Williams snatched the win from Jeff Morgan by just 3 thousandths of a second as the 2 dragsters in the field faced off. Morgan took a decisive reaction time advantage at the line but his 10.558 on a 10.50 adjusted index was not enough to hold off the charge of Williams' 6.941 on her 6.95.
Round 2 had Ron Shelly up against Geanine Ballard, and Geanine left with a nice .035 light to give chase on the Vega but Ron put up a performance that would be hard to beat on any day as he ripped the tree out by the root with a double O5 light and proceeded to clock a 9.601 on his 9.60 adjusted index for a tight 6 thousandths package. Paul Polito then followed with a double O7 light against Brad Hawk and took the win with a 10.716 on a 10.75 over a slightly stronger 12.653 on a 12.70. Trish Williams then lined up against Nick Micale and waited 3 seconds for her light as the 9 second Buick made it's blast for the finish line. Both racers had nearly identical reaction times and the race was left all up to the machines as Trish managed to take the stripe by only 2 hundredths of a second with her 6.924 on a 6.95 over Nick's 9.848 on his 9.85 adjusted index.
Round 3 was finally the end of the road for defending champion Jeff Sefranek as Larry Cannon matched him for reaction times and then ran down the little Ford to take the stripe with a 9.268 on a 9.25 over an 11.39 on an 11.25 attempt. Ron Shelly got a bit of a break after his Vega slipped the tires off the line and could only manage a 9.69 on his 9.60 adjusted index while Trish Williams drew the red light giving chase.
Paul Polito came into the 4th round by way of a bye the round before which left the possibility for a Vega/Vega final round match-up as Ron Shelly was to get the bye in this round. But Polito had to beat Larry Cannon and his excellently performing Chevelle to the finish line first. Paul certainly rose to the challenge as he hammered out a solid .029 RT but something went wrong as the Vega-Saurus suddenly stopped in it's tracks before even reaching the 60' clocks. Cannon likely watches all this happening yet still knocked off a very nice .042 light of his own and ran it out for a 9.277 @ 142 mph on his 9.25 adjusted index.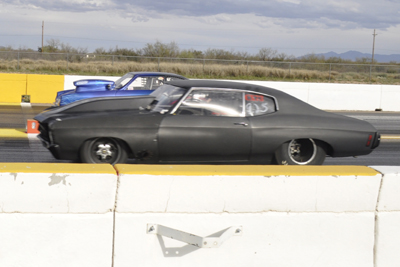 So, after nearly a half season absence from the track, Ron Shelly was already rolling into the final in his first race of the season against Larry Cannon in his first DRAGCAR race ever. Shelly was certainly looking to start his season right as he took a 1 hundredth reaction time advantage at the tree with his .025 light. Then Cannon left the line less than 4 tenths of a second later to give chase and as the two crossed the finish line side by side 9 seconds later at 140+ mph, it was Cannon's Chevelle by 14 thousandths of second with a 9.258 on a 9.25 over Shelly's 9.634 on a 9.60 battle.
So, Larry Cannon made his DRAGCAR debut in stellar style with a perfect Annihilator Win and Ron Shelly not only came away with Runner-Up honors, but also collected the Best Losing Package award with his .06 final round package. Paul Polito will then collect the Best Reaction Time of Eliminations award with his .007 round two performance.
Q-Finals:
W: Paul Polito, Tucson, AZ. '74 Vega, Index: 10.70, RT: .082, ET: 10.785
L: Bye
W: Larry Cannon, Tucson, AZ. '70 Chevelle, Index: 9.25, RT: .056, ET: 9.268
L: Jeff Sefranek, Phoenix, AZ. '65 Mustang, Index: 11.25, RT: .054, ET: 11.392
W: Ron Shelly, Phoenix, AZ. '74 Vega, Index: 9.60, RT: .159, ET: 9.694
L: Trish Williams, Tucson, AZ. '95 R.E.D., Index: 6.90, RT: (-.208), ET: 9.929
Semi-Finals:
W: Larry Cannon, Index: 9.25, RT: .042, ET: 9.277
L: Paul Polito, Index: 10.70, RT: .029, ET: Broke
W: Ron Shelly, Index: 9.60, RT: .164, ET: 12.223
L: Bye
Final:
W: Larry Cannon, Index: 9.25, RT: .038, ET: 9.258
L: Ron Shelly, Index: 9.60, RT: .025, ET: 9.635
---