Chandler, AZ - American DRAGCAR returned to Wild Horse Pass Motorsports Park for the Easter weekend with race #2 of the AZ Differential Specialists Central State Championship Series on Saturday April 4th.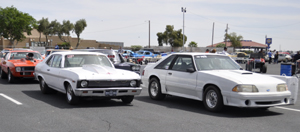 With 25 entries laddered up in DragSport Eliminator, the Fast Five consisted of Geanine Ballard with her blown '67 Camaro in the #1 slot with a 9.133 while Mark Ballard had to settle for 2nd with the 9.160 from his blown '58 Delray wagon. Number 3 was taken by Gary Navis in his gorgeous '67 Camaro with a 10.011 and Willie Wray in his '69 Camaro clamped onto 4th with his 10.014 blast. Ron Shelly rounded out the 5 in his '74 Vega with his 10.067 effort.
A.J. Crader opened round 1 with a bye run in his Parasitic Psycho Mustang and then some hot action drag racing battles followed starting with the Mark Ballard vs. Gary Navis pairing of 2 beautiful Chevy hot rods. Mark's ever-present Delray waited at the tree with a 9.15 adjusted index as Gary's Camaro took the leading start on a 10.00 adjusted index. Ballard ran a nice 9.188 to Navis' 10.079 but the .010 RT of Navis proved to be too much to overcome as he took the stripe 1st by a slim 2 hundredths of a second. Then came defending DRAGSTAR Jeff Sefranek against Emily Sramek who is not only going after a Season IV Rookie of the Year, but is seriously chasing after the Season IV DRAGSTAR championship title. Rookie she may be, but Emily showed she isn't to be waved aside as she hammered out a mean .018 RT in her '68 Olds while making her run for the finish line 2 seconds ahead of Sefranek who's .032 was pretty solid in itself. But at the finish line her 12.951 on a 12.90 fell just hundredths short as Sefranek took the win with a 10.895 on his 10.90 adjusted index. The closest race of the round was the surprise upset of Geanine Ballard in her Camaro by Bill Matchette in his '69 Coronet when Bill's very late light had him looking to be in bad shape as Ballard waited for her tree to drop. But as Geanine took an even tenth of a second advantage off the tree, something went wrong and she came up 4 hundredths short with an off pace 9.30 on her 9.15 as Matchette held on for the win with a 13.13 on his 13.10 adjusted index. Then Leno Cimarolli in his gasser style '66 Mustang earned himself his 1st DRAGCAR round win with a killer .004 RT combined with a 12.519 on his 12.50 over Carl Corona's under index 13.40 on a 13.45 adjusted index. The rest of the round rather ironically was all decided at the tree with red light after red light followed by Ron Shelly's competition single when Mark Beavin's Duster decided it was time to leave before the start of eliminations due to mechanical failure.
Ron Shelly then took his shot at the Best RT of Eliminations award with his 2nd round .002 light against Steffen Schulte in his '64 Falcon and then took the round win with a 10.069 on his 10.05 over a 12.929 on a 12.90 effort. That was followed by the closest race of the round when Leno Cimarolli put together a .026 RT and a 12.509 on a 12.50 package and still lost to the under-index charge of A.J. Crader's 13.80 on a 13.85 adjusted index. This is the 1st instance this season where the rare occurrence of a racer actually being beaten by the run-under enacted the Fair Competition Free Return Guarantee and Leno Cimarolli gets awarded a free race entry for his next race. Rick Lagno then took out Thomas Fitch in a near heads-up paring with his 10.52 on a 10.45 over a 10.59 on a 10.50 attempt.
Third round had Rick Lagno taking a holeshot win with another 10.52 on his 10.45 over Bill Matchette's under-index 13.08 on a 13.10 adjusted index. Ron Shelly and A.J. Crader then followed with what might have become the closest DRAGCAR race ever had Crader's index been correctly put into the computer. Shelly took nearly a tenth of a second advantage off the tree as he hit another double O RT to give chase running a 10.083 on his 10.05 to Crader's 13.739 on what should have been a 13.80 adjusted index, but A.J. still had the 13.85 on his window from the previous round and drew the DQ by staging with the incorrect index showing on the boards. Ouch! Chris Holbrook in his '66 Mustang then did a real number on William Reitman in his '87 Chrysler Conquest by nailing a .001 RT to Reitman's still respectable .042 and then pairing that up with an 11.678 on an 11.65 to take the win over a 10.312 on a 10.25 adjusted index.
The semi-final round had two 1st generation Mustangs taking on two mid '70's Chevy sub-compact nostalgia Pro Stock bodied racers. First up was Rick Lagno in his '75 Monza vs. Jeff Sefranek in the Colt Of Arms '65 Mustang. Sefranek took the advantage at the tree by 25 thousandths of a second but Lagno made up the difference by laying down a 10.507 on a 10.45 over a slower 10.989 on a 10.90 in the closest race of the day, a mere 72 ten thousandths margin of victory. So it was left up to Chris Holbrook in his '66 Mustang to take a Ford into the final as he was up against Ron Shelly in his '74 Vega. This time however, it was all Chevy domination as Shelly had the RT advantage with an O2 light and took the win with a 10.085 on his 10.05 over Holbrook's 11.705 on an 11.65 adjusted index.
So the final once again looked to be a pretty tight match-up as both racers had run only one hundredth off of their adjusted indexes during previous elimination rounds. Rick Lagno having a 10.45 adjusted index had run a 10.465 in 1st round while Ron Shelly having a 10.05 adjusted index had run 10.069 in 2nd round of eliminations. And though Lagno would seem to carry a slight 4 thousandths performance advantage, Shelly would still carry the "box" advantage being the only "box" car in the field. As Lagno's tree came down, he was not to be intimidated by Shelly's electronics and managed an outstanding .004 RT for a 29 thousandths advantage as he put his front end in the air, but an off pace 10.547 left the door open too far for Shelly who drove through and took the win with a 10.039 charge. Shelly's under-index performance however enacted the Final Round Split thereby awarding both racers with winner trophies as they split the purse. Ron Shelly came away the Predator race Winner while Rick Lagno went home the Judicator points Winner, and both racers picked up additional full entry contingency pay as well.

Next on the calendar is the AZ Differential Specialists Central State Championship Series Race #3 back at WildHorse Pass on May 2nd, 2015.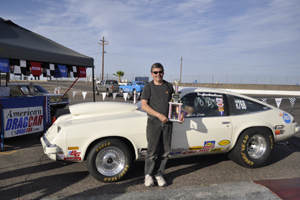 Quarter Finals:
W: Rick Lagno, Scottsdale, AZ., '75 Monza, Index: 10.45, RT: .025, ET: 10.523
L: Bill Matchette, Glendale,AZ., '69 Coronet, Index: 13.10, RT: .408, ET: 13.087
W: Ron Shelly, Phoenix, AZ., '74 Vega, Index: 10.05, RT: .007, ET: 10.083
DQ: A.J. Crader, Glendale, AZ., '01 Mustang, Index: 13.80, RT: .101, ET: 13.739
W: Chris Holbrook, Chandler, AZ., '66 Mustang, Index: 11.65, RT: .001, ET: 11.678
L: William Reitman, Maricopa, AZ., '87 Conquest, Index: 10.25, RT: .042, ET: 10.312
W: Jeff Sefranek, Phoenix, AZ., '65 Mustang, Index: 10.90, RT: NA, ET: NA
Bye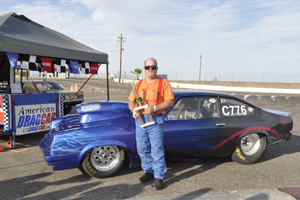 Semi Finals:
W: Rick Lagno, Index: 10.45, RT: .070, ET: 10.507
L: Jeff Sefranek, Index: 10.90, RT: .045, ET: 10.989
W: Ron Shelly, Index: 10.05, RT: .020, ET: 10.085
L: Chris Holbrook, Index: 11.65, RT: .064, ET: 11.706
Final:
Split: Ron Shelly, Index: 10.05, RT: .032, ET: 10.039
Split: Rick Lagno, Index: 10.45, RT: .004, ET: 10.547
---