American DRAGCAR made its way back to Tucson to continue the Season IV Micro Import Specialists Southwestern Championship Series schedule at Southwestern International Raceway with Race #3 on Saturday June 20th and the excitement just picked up right where it left off in March. The weather this time was downright hot as racers were rolled out of their boxes, and even as the Sun had set, temps were still holding quite near the century mark, but the racers were still ready to do battle.
Surprisingly, even with a number of racers being absent for numerous reasons including the weather simply being too hot, DragSport Eliminator still had a first round ladder equaling the size of the previous 2 races of the season so far thanks to some new members and racers entering into the series competition.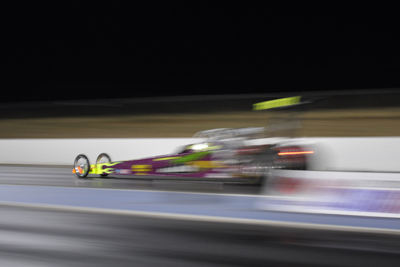 One of those absent was "Lil" Trish Williams in her Star Cruiser dragster who is distinguished as "the fastest racer in DRAGCAR" but Kristen Stevens (pictured right) in her 7 second dragster became the second fastest racer in DRAGCAR with her #1 spot 7.719 qualifying effort. Josie Vasquez took the #2 slot with her 8.548 blast while Larry Cannon captured 3rd with a 9.284 performance. Geanine Ballard held on to the 4th spot with her 9.316 while Mark Ballard rounded out the Fast Five with a 9.350 charge. That made for three of the four ladies in the field up in the Fast Five! How about that?
First round of eliminations started off with Kristen Stevens taking a competition single as Ron Shelly failed to make the call to the lanes but then things got hot and heavy as Rochelle Smith put a 3 hundredths light on Joe Dominguez and held on for the win with a 12.333 on her 12.35 adjusted index over Joe's 9.638 on a 9.65. Then it was Robert Taylor upsetting Mark Ballard, making up a slight reaction time deficit and taking the stripe with an 11.023 on his 11.10 over Mark's 9.311 on a 9.35 adjusted index. Next up, Marvin Wolfmeier took the tree first on his 11.15 adjusted index against Geanine Ballard running on a 9.30 adjusted index. Geanine got the advantage off the line but at a hundred feet out, her transmission let loose and The Wolf raced across the stripe unchallenged with an 11.153 win. Tom Payton and Doug Woods followed in a Corvette battle that was truly won at the tree as Payton took a 2 hundredths reaction time advantage while giving chase and crossed the finish line just over a hundredth ahead with a 10.992 on his 10.95 over a 14.483 on a 14.45 adjusted index. Jeff Morgan overcame his late leave against Paul Polito, running 11.468 on an 11.50 over Polito's off-pace 10.865 on a 10.80 attempt. Scott Niles took the reaction time advantage over Manny Lopez and then the stripe as well with an 11.205 on an 11.15 over an 11.460 on an 11.35 adjusted index. Jeff Sefranek survived the round with a slight reaction time advantage over Josie Vasquez but not without a scratch as he went .052 under with an 11.198 on an 11.25 adjusted index against her 8.567 on an 8.55 attempt. Chris Devaney then closed out the round with another competition single as Larry Cannon's Chevelle suffered engine failure during qualifying and he was unable to make the call to eliminations.
Round 2 proved a bit less exciting as it was mostly decided by red light starts but the one green light race of the round had Chris Devany taking the win over Jeff Morgan by 5 hundredths after taking a full tenth of a second advantage from the tree with a 9.514 on a 9.50 over an 11.419 on an 11.45 effort.
Third round started off with the closest race of the night as Tom Payton met up against Kristen Stevens and dodged a bullet as she put a nice 5 hundredths light on the "Ol" man but fell off pace with a 7.878 on her 7.70 adjusted index and missed catching "Ol Red" by a mere 12 thousandths of a second as he tripped the clocks with an off pace 11.063 on his 10.95 adjusted index. Next up was Jeff Sefranek facing Marvin Wolfmeier in an 11.15 heads-up drag race but Sefranek was unable to back up his first round 11.19 run-under in the previous round and looked to be finished in this round. When the tree came down, the two left nearly together as The Wolf took a hundredth lead from the start, and he just stretched it out from there running 11.166 for the win over a trailing 11.265 attempt.
The semi finals had Marvin Wolfmeier on the bye while Tom Payton would face Chris Devaney. Payton had started having troubles running on his index but he made up for it with his reaction time this round as he took a nice 6 hundredths advantage at the tree, and then as Devaney left the line to give chase, his Mustang fell flat and lost power allowing Payton to streak to an unchallenged round win with an 11.054 on his 10.95 adjusted index.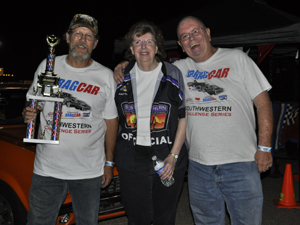 So there it was, "Old School" vs. "Ol Red" in the final. Neither of the two had taken any run-under penalties but Wolfmeier was looking to have a slight advantage with his consistent dead-on runs throughout eliminations while Payton seemed to be struggling for consistency. Even so, Payton may have still been the odds-on favorite as he is known for his box-like reaction times but as the tree fell, it was The Wolf who had chopped it down with a stellar double O6 reaction time. Payton was a bit off that and it didn't help any that he could only run an 11.006 on his 10.95 against Wolmeier's awesome 11.146 on an 11.15 performance as the little Vega took the stripe more than a tenth of a second ahead of the red car.
Congratulations to Marvin Wolfmeier on his perfect Annihilator win, and with that, he jumps into the SWCS points lead just ahead of Mark Ballard. Larry Cannon holds the 3rd spot just ahead of Geanine Ballard.
Marvin Wolfmeier also captured the Best Reaction Time Of Eliminations award with his .006 Final round win while Doug Woods collects the Best Losing Package Award with his .106 first round defeat.
Next on the DRAGCAR calendar is the Micro Import Service Southwestern Championship Series Race #4 on August 15th at Southwestern International Raceway.
---
Results - American DRAGCAR, Southwestern Int'l Raceway in Tucson, AZ / June 20, 2015
Quarter Finals:
Winner: Tom Payton, Tucson, AZ., '57 Corvette, Index: 10.95, RT: .069, ET: 11.063
Runner-up: Kristen Stevens, Tucson, AZ., R.E.D., Index: 7.70, RT: .016, ET: 7.878
Winner: Marvin Wolfmeier, Vail, AZ., '74 Vega, Index: 11.15, RT: .035, ET: 11.166
Runner-up: Jeff Sefranek, Phoenix,AZ., '65 Mustang, Index: 11.15, RT: .047, ET: 11.265
Winner: Chris Devaney, Maricopa, AZ., '87 Mustang, Index: 9.50, RT: .474, ET: 14.477
Runner-up: Bye
Semi Finals:
Winner: Tom Payton, Index: 10.95, RT: .015, ET: 11.054
Runner-up: Chris Devaney, Index: 9.50, RT: .079, ET: 23.971
Winner: Marvin Wolfmeier, Index: 11.15, RT: NA, ET: NA
Runner-up: Bye
Final:
Winner: Marvin Wolfmeier, Index: 11.15, RT: .006, ET: 11.146
Runner-up: Tom Payton, Index: 10.95, RT: .084, ET: 11.006