Cecil County Dragway - Rising Sun, Md (July 11th & 12th) -
The Mid Atlantic .90 Association
got back into gear after two months off with race # 3 & 4 of the 2015 season at
Cecil County Dragway
. On Saturday,
Don Bangs
(Super Comp),
Earl Nichols Jr
. (Super Gas) and
Marty Ganjoin
(Super Street) claimed victory. On Sunday
Kevin Scholl
(Super Comp),
Iggie Boicesco
(Super Gas) and
Daryl Peters
(Super Street) were the last ones standing.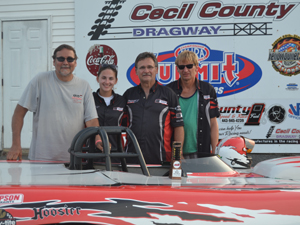 Saturday featured an action packed day of racing for the .90 Series as not only did competitors have Race number three on tap but, a special Top 8 Shootout sponsored by ATI & Autometer was run for members who earned enough points and qualified over the season. With hot temperatures on tap, it was going to be a will of endurance for those racers who were competing in both events. In Super Comp, 2014 MASCA Champ Don Bangs picked up where he left off last season and claimed his first victory of 2015 with a victory over the Lucas Oil Dragster of Jeff Kundratic. In the final, both drivers were almost even at the tree (.025 to .033) with Bangs keeping that edge with a 8.928 to 8.934 victory. In other action on Saturday, Earl Nichols Jr. claimed the battle of Corvettes as his '78 took down Gary Laird's '63 in Super Gas. Marty Ganjoin took his '68 Camaro to victory in Super Street over Jimmy Stack in the Garbinski & Livezey Challenger to conclude Race # 3.
As the sun was going down competitors lined up for a special Top 8 shootout event sponsored by ATI & Autometer. In the end Nichols, kept his hot streak going from Race three with a victory over Rich Price. In Super Comp, it was a battle of the first two winners of 2015 as Kevin Scholl took down Jeff Livezey Sr. In an epic battle Scholl turned on the win light with a .012 thousandths package to Livezey's .013 thousandths package to claim the victory. Rounding out the shootout in Super Street, Jimmy Stack got in as an alternate and used that advantage to run the table and take down 2014 Division 1 All-Star Jason Lawrence in the final.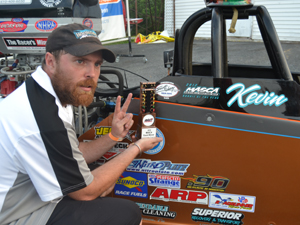 On Sunday, Daryl Peters of Toms River, NJ claimed victory in the Super Street. Peters, driving his 1985 Pontiac Trans-Am, sliced through the competition to meet up with 2013 Champion Stack in the finals. Peters took the advantage at the tree (.010 to .023) and parlayed that into a nineteen thousandths package with a 10.909 to 10.895 victory over Stack. This would be Peters' first win of the season and 2nd overall MASSA victory. Recent LODRS Lebanon Valley winner Iggie Boicesco took his ATI-sponsored Corvette to victory and stopped Nichols from a clean sweep of the weekend when Nichols rolled deep and turned on the red-light. Rounding out the weekend, Scholl continued his hot streak and claimed his second victory of the early season by taking down Tom Oliver in the finals. Scholl used a big advantage at the tree and took his S&W dragster to victory with a 8.921 to Oliver's breakout of 8.889.

The series now takes a weekend off before heading back to Atco Dragway on July 25th & 26th for Race # 5 & 6.