October 17th was the date. The American DRAGCAR Throwdown was the race. Heads-up, all-out, no-breakout drag racing was the format. This was a special invitation-only race comprised of a field of 8 racers chosen out of the day's earlier DragSport Eliminator field. The 8 racers were chosen by only one requisite, their qualifying ET, but nobody knew what ET would get them into this field beforehand. In fact, very few of the racers even knew such a field was going to be drawn for this special free entry exhibition class to be run off during the night's Halloween Havoc event.
With 53 DragSport Eliminator racers having performances ranging from 7.93 to over 16.50, the tightest bunch consisted of 13 having run in the smallest performance range cut out of the qualifying list with their qualifying times ranging from 10.47 to 10.92 making for a possible field spread of .45 seconds. The 8 closest performances were in a range of only 3 tenths of a second but of the 13 selected, only 10 were able to commit to running in the evening program so an 8-car field was picked with 2 alternates. Then attrition played its part so in the end it was a field with a performance spread of .45 seconds from the quickest to the slowest.

The 8-car field consisted of;

#1 @ 10.472 - Rick Lagno
#2 @ 10.479 - Matt Ballard
#3 @ 10.562 - Howard Devore
#4 @ 10.627 - Butch Saylor
#5 @ 10.650 - Jim Wray
#6 @ 10.708 - Marc Ocampo
#7 @ 10.799 - Shawn Fredrickson
#8 @ 10.922 - James Sorenson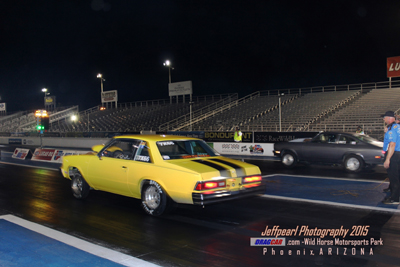 First round opened with Butch Saylor in his '78 Chevy Malibu vs. Matt Ballard in his '72 Chevy Vega (right). Ballard had a 15 hundredths performance advantage over Saylor on paper but this eliminator was running on an Instant green start. Therefore performance wasn't going to be everything as racers would have to be on their toes to react quickly to get a decent reaction time and hopefully a jump on their competition. As it turned out in this pair, Ballard's performance advantage was enough to overcome the holsehot advantage put on him by Saylor and he took the win with a 10.42 over a 10.77. Next out was Marc Ocampo in his '67 Ford Mustang and James Sorenson in his '73 Chevy Nova. Ocampo carried a 22 hundredths performance advantage going into the round but before the greens even flashed, the red light was glowing on Ocampo's side of the tree allowing Sorenson a 10.95 pass into the semi-finals. The third pair up to the line was Howard Devore in his '69 Chevy Nova taking on Rick Lagno in his '75 Chevy Monza. Lagno carried the advantage in this pair having qualified 9 hundredths quicker than Devore but it was the reaction time that made the difference in this pairing as Devore's 10.57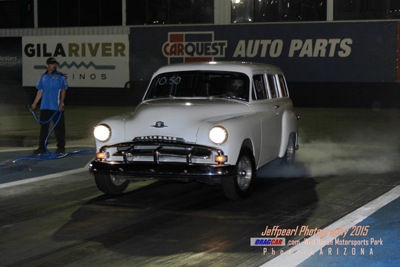 prevailed over Lagno's quicker 10.48 charge. And then the final pairing of the round brought out Jim Wray in his '51 Plymouth Suburban going up against Shawn Fredrickson in his '72 Ford Maverick (right. When was the last time you saw a 4200 pound '51 Plymouth Suburban powered by a blown big block Chevy running 10's at the track?). Jim Wray had a 15 hundredths performance advantage going up to the line in this pairing but again the reaction time made all the difference as Fredrickson came away the winner with an 11.23 over 11.08.
The first pairing of the semi-finals had Howard Devore in his Nova going up against Shawn Fredrickson in his Maverick. Fredrickson qualified with a 10.79 but had only run 11.23 in first round while Devore who qualified with a 10.56 had run 10.57 in first round so the big performance advantage was going to Devore in this pairing. And when the greens lit, it was Devore off the line first with a healthy holeshot advantage and he just stretched it out as he went taking the win with a 10.59 over a slowing 11.84. Then it was James Sorenson facing off with Matt Ballard. Sorenson who had qualified with a 10.92 and managed a 10.95 in first round was at a decisive disadvantage as Ballard qualified with a 10.47 and had run 10.42 in his first round. When the greens lit for this pair, it was again the faster racer taking the reaction time advantage and stretching out the lead as it was Ballard taking the win with a 10.47 over a 10.97.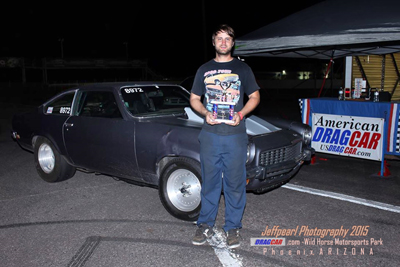 So Howard Devore had his work cut out for him as he looked to be at about a tenth of a second performance disadvantage to Matt Ballard going into the final round, and Ballard had nailed down the best reaction time of the night in his previous round. Then the two Chevys were staged, big block vs. small block, Nova vs. Vega, Tucson vs. Flagstaff, lotsa bragging rights up for grabs here. The greens flashed and the front ends jumped up, and it was Devore with a 5 hundredths reaction time advantage off the line that made Ballard worry. Ballard had to be sweating as Devore's Nova looked to be running away with the win, stretching out his lead as they raced down the track. Then at about the 1/8th mile, Ballard's Vega finally started to pick up speed on Devore's Nova and began closing the gap, and it was at the 1000' mark where the big block Vega finally climbed up alongside the Hound Dog and started edging forward for the win 300 feet later by a slim 5 hundredths of a second margin, 10.47 @ 127mph over a 10.58 @ 123mph.
---
Results - American DRAGCAR, Wild Horse Pass in Chandler, AZ / October 17, 2015
Quarter Finals:
Winner: Matt Ballard, Tucson, AZ., '72 Vega, RT: .639, ET: 10.423
Runner-up: Butch Saylor, Sierra Vist, AZ., '78 Malibu, RT: .615, ET: 10.771
Winner: James Sorenson, Elgin, AZ., '73 Nova, RT: .552, ET: 10.95
Runner-up: Marc Ocampo, Avondale, AZ., '67 Mustang, RT: LB3, ET: xxxx
Winner: Howard Devore, Flagstaff, AZ., '69 Nova, RT: .529, ET: 10.575
Runner-up: Rick Lagno, Scottsdale, AZ., '75 Monza, RT: .917, ET: 10.485
Winner: Shawn Fredrickson, Florence, AZ., '72 Maverick, RT: .668, ET: 11.233
Runner-up: Jim wray, Wittmann, AZ., '51 Suburban, RT: 1.095, ET: 11.080
Semi Finals:
Winner: Howard Devore, RT: .553, ET: 10.591
Runner-up: Shawn Fredrickson, RT: .635, ET: 11.848
Winner: Matt Ballard, RT: .504, ET: 10.479
Runner-up: James Sorenson, RT: .554, ET: 10.964
Finals:
Winner: Matt Ballard, RT: .564, ET: 10.472
Runner-up: Howard Devore, RT: .510, ET: 10.583