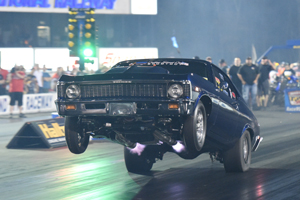 Mechanicsville, MD –
Hundreds of teams and 22,000 fans from across the United States, Canada and all over the globe poured into Maryland International Raceway in Budds Creek, MD for the 20th Annual Haltech World Cup Finals Import vs. Domestic event. Eighteen competitors took to the MDIR track in
Outlaw vs. Extreme
competition gunning for the $10,000 cash prize. This fan favorite class did not disappoint with several low 6-second passes, wild rides, fire and air all weekend long. Perhaps the best pass of the eliminations came in the 2nd round with Bayamon, Puerto Rico's Raul Bauzo and his '08 Toyota using a .114 reaction time, 6.215 Elapsed Time and a 205.94 MPH pass to hold off the turbocharged '11 GXP entry of Carl Brunet of Napierville, Quebec who cut a .116 light and finished with a losing, but close 6.432 ET. Buazo would foul out in round three, however, Puerto Rico would still be proud in the end as Victor Flores of Fajardo, PR would take is '02 RX8 all five rounds to claim the win.
In Radial vs. Modified, 31 competitors converged on MDIR to stake their claim as the king of the hill in this class, along with the $5,000 cash prize, trophy cup and contingencies. After two rounds of qualifying prior to final eliminations, local Maryland racers would pace the field in the #1 and #2 spots. Steve Willingham of La Plata assumed the #1 position in his '67 Mustang with an impressive 6.565 ET at 218.94 MPH. Glenn Dale's Luis Corujo and his '04 Celica held close in the #2 spot at 6.756 MPG at 207.72. Rounding out the Top 3 was Mark Carlyle of Hilliard, Ohio with a 6.771 ET and top MPH in qualifying at 220.04.
Willingham would use his #1 position to make his way to the semi-finals in the ladder before succumbing to #5 qualifier and eventual runner-up Raul Acevedo. In a surprise and most impressive fashion; Steve Drummond would take his Laurel, Delaware based '69 Camaro all the way from the 19th qualifying spot to eventually claim the win. Drummond's consistent performance in eliminations along with a pair of .031 lights in round one and two, followed by .060 light in the quarters, a broke-single in the semi's and he used an .094 reaction time in the finals to claim the win.
In Precision Turbo & Engine X275 vs. Hot Rod this year, recent 1/8 mile national record-holder Rich Bruder of Edison, NJ, let the field of 26 racers know in qualifying that he planned to be a force to be reckoned with in 1/4 mile as well. After two rounds of qualifying efforts, Bruder paced the field with a blistering 7.038 ET at 165.64 MPH pass. Imports were not to left out of the action at the top as Fernando Santiago of Queens, NY, put his '85 RX7 into the #2 spot with a 7.048 effort with a 204.45 MPH top end charge. Elimination Sunday would prove to be a different story as Jesus Melendez of Aguas Buenas, Puerto Rico would take his '00 S2000 from the #13 qualifying spot all the way to the winner circle, putting a win in the tally for imports! Rob Goss of Sheridan, Wyoming also set a new X275 Quarter-Mile Record pass of 6.92 at 203 MPH in Round Two of competition making for an exciting class for fans.
In the JPC Street Fighter Class, 35 racers made qualifying attempts to join the show. In the end, #3 qualifier Adam Arndt from Orefield, Pennsylvania put his '88 Mustang in the winner's circle ousting Kevin Volk's '14 GT500 of Scituate, Rhode Island, the #8 qualifier with a 7.578 ET to Volk's 8.541 final pass.
A huge group of 59 competitors lined up for their chance to claim the Real Street Super Street championship honors. It would take an 8.792 ET or better to make the 32 car field providing an exciting two rounds of qualifying for the fans. John Staats of Chambersburg, PA in his '94 Supra proved to be "Mr. Consistency" during the weekend as he earned #1 qualifying honor with a 8.180 class best ET. He proceeded to complete the task ultimately winning the competition after he bested Hillside, NJ's Marco Pinho in the final pair who was unable to get down track.
Marco Decesaris made domestic fans proud in The Driveshaft Shop True Street class winning with his '15 Camaro. The local team based in Lothian, won the honors over 52 other teams, besting Reed Champ's import '94 Civic in the finals. Qualifying in the upper part of the field paid dividends in this class as the #1, #2, #3, and #5 qualifiers all advanced to the semi-final round.
In the ERL Performance Inc. All-Motor class, Teddy Weaver of Stafford, VA ran a 9.511 ET to Tommy Godfrey's 10.185 ET in the all-Ford Mustang final. Eliminations turned the tables on qualifying for All-Motor as import competitors owned four of the top five spots after qualifying was completed, but in the end, it turned into an all-Mustang semi and final round. 41 competitors who were unable to make an elimination field entered a Second Chance race in the only non-head-up category of the event. The '95 Civic of Brian Kibly of Gap, PA took home the win and a positive ending to the race for his team.
---
Weekend Winners:
Outlaw vs. Extreme: (W): Victor Flores; Fajardo, PR - (R/U): Carlos Montano; Paterson, NJ
ATI Performance Products Radial vs. Modified: (W): Steve Drummond; Laurel, DE - (R/U): Raul Acevedo; Ewing, NJ
Precision Turbo and Engine X275 vs. Hot Rod: (W): Jesus Melendez; Aguas Buenas, PR - (R/U): Rob Goss; Sheridan, WY
JPC Street Fighter: (W): Adam Arndt; Orefield, PA - (R/U): Kevin Volk; Scituate, RI
Real Street Super Street: (W): John Staats; Chambersburg, PA - (R/U): Marco Pinho; Hillside, NJ
The Driveshaft Shop True Street: (W): Marco Decesaris; Lothian, MD - (R/U): Reed Chapman; Ruffs Dale, PA
ERI Performance Inc. All Motor: (W): Teddy Weaver; Stafford, VA - (R/U): Tommy Godfrey; Lothian, MD
Second Chance Race: (W): Brian Kilby; Gap, PA - (R/U): Ryan Graham; Stafford, VA