American DRAGCAR's Season V
is under way as Race #2 of the Arizona Differential Specialists Central Championship Series took to the track at Chandler, Arizona's Wild Horse Pass Motorsports Park on March 19th, 2016 and what a race it turned out to be!
The weather was great though a touch on the warm side for racing, but considering it's Arizona, it was great. The turnout was also great as American DRAGCAR saw its largest regular event DragSport Eliminator field to date with 34 entries. This exceeded the "Even 32" bonus by just 2 entries but with that extra round created, the payouts went well above what a 32 car field would have paid even with that bonus, so we are all excited about that. Also, this was the first race to offer up the new "Bounty" awards which were placed on Grand Championship points leader Mark Ballard and Central Championship points leader Willie Wray, so it was going to be interesting to see who could capture those by the day's end.
When qualifying was completed, it was Jeff Gibson in his blown hemi powered front engined dragster sitting in the top spot with a 7.543 @ 187mph charge. Mark Ballard took up the #2 position with his blown big block Chevy powered '58 Delray posting a 9.034 @ 148mph while Geanine Ballard in her blown big block powered '67 Camaro settled for #3 with her 9.052 @ 148mph blast. Ron Shelly grabbed up the #4 spot with his big block powered Vega with a 9.467 @ 138mph as Richard Shelly rounded out the Fast Five with a 9.585 @ 134mph in his Windsor powered Mercury Capri.
First round opened with what is to be one of the upcoming DRAGCAR Throwdown List pairings as Joe Bennett faced off with #2 listed Matt Ballard in a Vega duel. Bennett got bitten by a technicality however as he staged while having the incorrect index showing on the boards, and that gave Ballard the pass to the next round as he posted a 10.41 on his 10.40 adjusted index just to show that he was ready. Next up was the long-absent Eric Holsey, Season III's Series threat, with his Trans-Am going up against Walt Pearce all the way from Washington in his 6-cylinder Chevy powered '32 Chevy coupe. Pearce's red light however moved Holsey into the next round. Then it was Jeff Ostrander going up against Willie Wray for the Bounty but Ostrander's transmission failure let Wray move into the next round as well. Next, Dustin Passerby looked to be a threat to take the Bounty as he lined up against Mark Ballard. Passerby took his tree 3 seconds before Ballard but after the two cars were headed down track, it was Ballard with a 9 thousandths reaction time advantage while he gave chase. And at the stripe it was the big black wagon getting there first with a 9.043 on a 9.05 adjusted index over a 12.08 on a 12.05. Later we saw Michael Porter in his '70 Mustang on a 12.50 adjusted index lining up against Thom Fitch in his '75 Mustang II on a 10.55 adjusted index. Porter took a 2 hundredths reaction time advantage from the tree and stretched it out, running 12.461 to stay ahead of Fitch's 10.54 charge. Then it was Season IV Southwestern Championship DRAGSTAR, Geanine Ballard, going up against Bob Kullberg in his '67 'Cuda. Ballard took almost 3 hundredths advantage at the tree as she gave chase on the Mopar and she needed it as she just took the stripe by 13 thousandths of a second with her 9.075 on a 9.05 over Kullberg's 10.61 on a 10.60 effort. Nick Micale then lined up against Jeff Gibson in what has to be the "hard luck" duo of American DRAGCAR. Micale has been running DRAGCAR since the very first race but has never seemed to be able to have things go his way as more times than not, he has been out due to mechanical issues while Gibson too has yet to make an elimination round due to technical difficulties as well. Gibson's streak is not over as he suffered a clutch-related failure during the burnout and Micale was able to make a pass into the next round. Then it was Nathan Williams against Brandon Wyatt. Williams' decisive reaction time advantage would win him the round as he took the stripe only 3 hundredths ahead of Wyatt with his 11.895 on an 11.90 adjusted index over the quicker 11.472 on an 11.50 attempt. Later in the round we saw the two Wallace Racing entries facing off as new rookie Aaron Shackelford on his 15.10 adjusted index was up against Richard Shelly running on a 9.60 adjusted index. As "2 Chains" Shackelford's tree fell, he was off with a nice light netting an unbelievable nearly 7 hundredths of a second advantage right from the start over the always togh Shelly, and he never saw the "Crapi" until after the finish line as he took the stripe by almost 4 tenths of a second ahead of Shelly. But, uh-oh, Shackelford's 14.874 was well under barrier and he was disqualified, allowing Shelly to move on to the next round. Almost Aaron!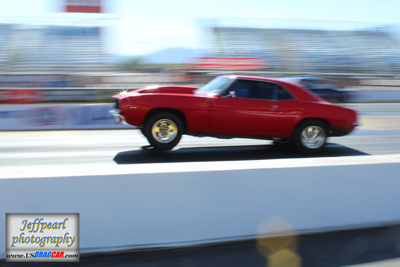 Second Round opened with Nick Micale taking his bye and ripping out a nice .019 light on his 10.04 pass to show that this just might be his day. Next up was Michael Porter going up against Gary Cope in another Mustang showdown but Cope's red light gave Porter the go ahead for another round. Danny Kortenber then took on Nathan Williams and used a one hundredth reaction time advantage paired with a 12.504 on a 12.50 adjusted index to earn him a trip into the next round. Later in the round was another taker for the Bounty on Willie Wray as Ron Shelly paired up against him. Willie did his job against the box racer with a stellar double O-3 light to Shelly's double O-4 but at the stripe it was Shelly's Vega nudging out the Camaro with a 9.483 on a 9.45 adjusted index over Wray's 10.022 on a 9.95, giving Shelly not only the trip to the next round, but also scoring him the Bounty award on Willie Wray. The other Bountied racer in the field was Mark Ballard, and he was now up against Eric Holsey. Holsey left the line 3 seconds ahead of Ballard but Ballard was able to take a 3 hundredths reaction time advantage as he gave chase, and it turned out to be well needed as Holsey's 12.086 on his 12.10 adjusted index was not enough to hold off Ballard's 9.03 on a 9.05 charge. Finally the round closed out with a rematch of the Season Opener final as Richard Shelly was going up against Kody Robinson. As Shelly gave chase on the Chevy, it was Robinson with a 15 thousandths reaction time advantage in his favor and as the stripe flash beneath the two racers, it was still Robinson getting there first with his 9.941 on a 9.95 over a 9.634 on a 9.60 effort.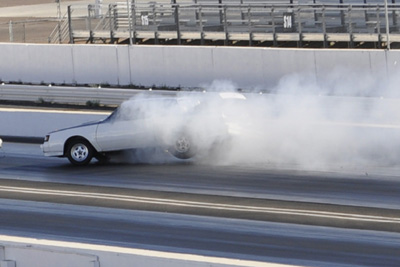 Round three then opened with yet another famous Ballard/Ballard battle as Matt Ballard was going for the Bounty on his dad, Mark Ballard. Matt certainly brought his guns as he nailed a nice .010 reaction time for more than 3 hundredths advantage but the elder Ballard would have none of that as he chased down and passed the Area 51 team Vega to take the win with a 9.001 on his 9.05 over Matt's 10.457 on a 10.40 adjusted index. Then it happened, Corey Fancy in his Mustang was up against Nick Micale in his turbocharged Buick Regal. Fancy took the tree more than 5 and a half seconds ahead of Micale and netted a solid reaction time advantage in doing so. But as Micale gave chase, an oil filter o-ring blew out at about 300' down track and turned the car right in a hurry as oil sprayed under the right side tires. Micale did a great job of countering the car's violent move a greatly reduced the impact with the right side wall as he turned it into a hard deflection hit as apposed to a deadly head on hit but the hit was still hard and the car was bounced back to the left up on three wheels and threatening to roll over as Micale held on for the ride. Then the impact with the left side wall was even harder as Micale was unable to steer the car away from the hit and the car finally came to rest after sliding about a hundred feet down the wall still on it tires. But Nick Micale was unable to exit the vehicle as the driver door was up against the wall, and in outstanding fashion, the Wild Horse Pass safety crew was there in a matter of seconds to handle the situation.
Fortunately there was no threat of fire and they were able to take their time getting Nick out through the passenger side of the vehicle, and after a few minutes Nick Micale walked under his own direction to the paramedic vehicle to be looked over. Micale may have walked away but he certainly felt some pains and his Buick is likely done with racing, but Nick Micale went out of his way to visit the DRAGCAR trailer before leaving the track, saying, ". . . I'll be back." We certainly hope so, Nick! After the clean-up, the remainder of the round finished out uneventful with red light wins and finally a bye run.
In the quarter-finals, Kody Robinson opened the round by taking out Corey Fancy with a 9.945 on his 9.95 over a 15.526 on a 15.50 effort. Then it was Ron Shelly going for the other Bounty as he lined up against Mark Ballard. What a race this turned out to be as Shelly's .015 reaction time was bettered by Ballard's .010 and at the finish line Shelly's 9.431 on a 9.45 fell short of holding off Ballard's 8.949 on a 9.00 by just under 4 hundredths of a second. The round was then closed with Michael Porter taking the bye-run into the semis.
So, for the semis, it was Mark Ballard drawing the bye while Michale Porter was to battle it out with Kody Robinson for the rights to the final round. Porter took his tree 2 and a half seconds ahead of Robinson but when they both had left the line, it was an even race as both had posted .032 reaction times. The Camaro was charging hard and as the finish line went under the two cars, it was Porter's Mustang holding off Robinson with a 12.406 on his 12.45 over the 9.938 on a 9.95 effort.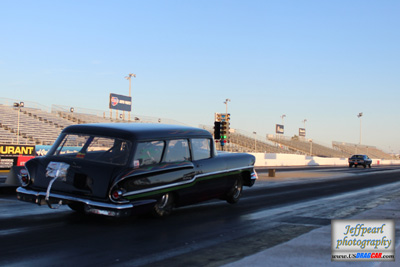 The finals for this race would become the first of its kind in DRAGCAR history as both finalists had become re-indexed throughout the day onto indexes which they were actually unable to run. Mark Ballard's 8.94 in the quarter finals had put him on an 8.85 adjusted index while 8.900 was his disqualification barrier at .150 under his first round 9.05 index. Michael Porter's 12.40 in the previous round had put him now on a 12.30 adjusted index while 12.350 was his disqualification barrier at .150 under his first round 12.50 adjusted index. This put Ballard at about a 1 hundredth performance advantage with his 8.94 on an 8.85 to Porter's 12.40 on a 12.30 but the threat of an under-index disqualification on either racer threw a different sense of suspense into the race for sure. Once the tree had dropped and both racers were on their way, it was Michael Porter holding a solid 6 hundredths reaction time advantage but Porter's well off pace 12.59 allowed Ballard to get by and take the stripe by a full car length with his 8.989 blast for the DragSport Eliminator Exterminator race win.
So, Mark Ballard was able to defend against his "Bountied" status as he marched right into the winner's circle to collect a cool $750.00 plus the $50 DRAGCAR contingency, and he also takes over the Central Championship Series points lead with this race win.
Ron Shelly failed to get the Bounty on Ballard but he did pick up the Bounty on Willie Wray so he will get a free pass into his next race. But Willie Wray managed to nab the Best reaction Time Of Eliminations award with his .003 effort in his defeat against Shelly so he too will get a free pass into his next race. And the Best Losing Package award goes to Matt Ballard for his .067 effort against the elder Ballard in round three. And the Double Down DragOut Gambler consolation bracket was won by Mike Zimmerman.
Congratulations to all of the winners and a big Thank You to all of the racers who entered to make this DragSport field the largest regular event field to date. And we again give a big Thanks out to Wild Horse Pass, Chuck Sundstrum, Jessica Cherry, and all of the rest of the WHP crew which of course includes the safety crew who may seldom seem to be recognized, and of course Thanks goes out to ALL of our Sponsors!
We wish a quick and easy recovery for Nick Micale and hope to see his return to the lanes much sooner than later indeed. Anyway, so we all get a little break as our next race will be on May 21st at Wild Horse Pass with the Arizona Differential Specialists Central Championship Series Race #3 and we all hope to see YOU there. Don't forget, bring your DragCar!
---
Results - American DRAGCAR, Wild Horse Pass in Chandler, AZ / March 19, 2016
Quarter Finals:
Winner: Kody Robinson, Cottonwood, AZ., 1970 Camaro, Index: 9.95x, RT: .069, ET: 9.945
Runner-up: Corey Fancy, Mesa,AZ., 1986 Mustang, Index: 15.50, RT: .425, ET: 15.526
Winner: Mark Ballard, Tucson, AZ., 1958 Chevy Delray, Index: 9.00, RT: .010, ET: 8.949
Runner-up: Ron Shelly, Phoenix, AZ., 1974 Vega, Index: 9.45, RT: .015, ET: 9.431
Winner: Michael Porter, Queen Creek, AZ., 1970 Mustang, Index: 12.45, RT: .451x, ET: 13.216
Runner-up: Bye
Semi Finals:
Winner: Michael Porter, Index: 12.45, RT: .032, ET: 12.406
Runner-up: Kody Robinson, Index: 9.95, RT: .032, ET: 9.938
Winner: Mark Ballard, Index: 8.85, RT: N/A, ET: N/A
Runner-up: Bye
Final:
Winner: Mark Ballard, Index: 8.85, RT: .096, ET: 8.989
Runner-up: Michael Porter, Index: 12.30, RT: .033, ET: 12.596