American DRAGCAR had endured a long absence from Tucson Dragway since the Season Opener of the Micro Import Service, Inc. Southern Championship Series in February but were finally back for Race #2 on June 18th, and yeah, it was hot.
Coming into this race, there was a DRAGCAR Throwdown Callout scheduled for Jeff Sefranek and Marvin Wolfmeier, but both would have had to have been out of the American Walk-In Coolers DragSport Eliminator eliminations after second round for that match race to take place. Sefranek honored his end of the deal by going out in the first round but Wolfmeier was another story.
Surprisingly, even with quite a few of the regular Southern Championship Series contenders absent from the lanes during qualifying, the field still managed its regular size creating a 5 round race. And we were honored to have a new member joining the guild with a pretty interesting hot rod of his own.
Mingo Hernandez was someone to watch back in the late '80's at Phoenix Raceway Park as he campaigned an ex-Bill Jenkins "Grumpy's Toy" '83 Camaro powered by a claimed 283 Chevy 10,000 rpm powerplant in front of a Lenco 4-speed transmission. Well, imagine the surprise when a new member handed in his membership form with the name Mingo Hernandez scratched across it. And guess what else, he's still running the same ex-Grumpy car, still being powered by a high winding small block in front of the Lenco transmission. What a DragCar that is!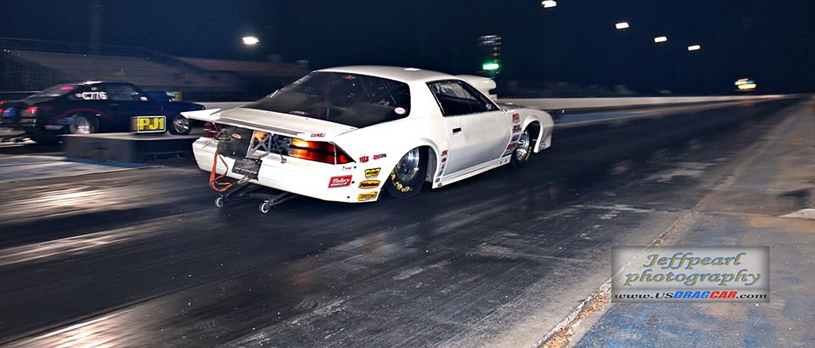 Anyway, did we mention that the weather was hot? As the racers pulled into the gates, the air temperature was no less than 110 degrees, which could explain the smaller than normal crowd slowly filing into the pits. But that didn't stop the Southern Championship Series points leader James Sorenson from rolling his Nova out of the box, nor did it stop the Grand Championship points leader Mark Ballard from bringing his blown Delray wagon out either. And of course the defending Season IV Southwestern Championship Series DRAGSTAR Geanine Ballard was also out in the heat going after her second DRAGSTAR DRAGWAY trophy. Gene Igo was back out in the American Walk-In Coolers rear engine dragster too and though he qualified in the top spot with an 8.378 blast, mechanical issues had him back in the trailer before the start of eliminations.
So after qualifying was completed, the Fast Five consisted of Gene Igo with his 8.378 while Jeff Morgan picked up the #2 spot with his altered T roadster's 9.098 charge and new member Mingo Hernandez in his '83 Camaro took the #3 spot with his 9.375 performance. Geanine Ballard was in the #4 spot with her blown '67 Camaro posting a 9.477 effort and Allen Morris rounded out the Fast Five with a 9.529 out of his blown big block powered '71 Nova.
First round opened with Jeff Sefranek on an 11.10 adjusted index taking on Mingo Hernandez on a 9.40 adjusted index. Too bad for the Ford as the red light lit just 9 thousandths of a second before the green should have come on and just that quickly, a real ex-Pro Stocker scored the first round win of American DRAGCAR competition. Southern Championship Series points leader James Sorenson got the round win as he nailed a double O7 light for good measure even though Michael Porter drew the red against him. But Grand Championship Series points leader Mark Ballard, who was running the Area 51 tow vehicle due to the wagon suffering mechanical woes during qualifying failed to get through the round and allowed Dustin Passerby to collect on the Grand Championship Bounty award. Marvin Wolfmeier then took out Ray Stephenson with a very respectable .025 light as he ran 11.078 on an 11.10 adjusted index over an off pace 15.358 on a 15.20 effort. And in the closest race of the round, Joe Dominguez used a double O2 light to put a big hole-shot on Jeff Morgan and then managed to stay in front for the win running 9.571 on a 9.65 adjusted index holding off the quicker 8.977 on a 9.10 attempt. Geanine Ballard then faced off with Allen Morris in a cool heads-up blown big block Chevy drag race as both were running on 9.50 adjusted indexes. Ballard did her job well as she put a 5 hundredths hole-shot on Morris and stretched out her lead for the win with a 9.458 over the 9.473 effort.
Second round opened with a pair of Vegas facing off as Marvin Wolfmeier on an 11.10 adjusted index was going up against Matt Ballard running on a 10.80 adjusted index. Mr. Wolf took a 4 hundredths reaction time advantage off the tree and then took the stripe by nearly the same margin running 11.033 to hold of the big block's 10.734 charge. Then it was Thom Fitch taking a 3 hundredths reaction time advantage over Dustin Passerby as both racers went nearly a full tenth of a second under-index with Fitch taking the win by just 5 hundredths of a second, 12.894 on a 13.00 over 12.215 on a 12.30 adjusted index. Geanine Ballard then surprised everybody with her 9.312 on a 9.45 blast to draw the DQ against James Sorenson who paired a stellar .011 reaction time with an 11.057 on an 11.05 adjusted index performance to show he was indeed the man to beat. Joe Dominguez took a 5 hundredths reaction time advantage over Scott Niles and it proved to be needed as he managed to take the stripe by just 5 hundredths running 9.505 on a 9.50 over the slightly quicker 11.051 on an 11.05 adjusted index. Ron Shelly then closed out the round by taking out Mingo Hernandez, with a 9.675 on a 9.70 over an off pace 9.526 on a 9.40 effort.
Marvin Wolfmeier again, opened round three going up against Joe Dominguez in what would officially be the closest race of the night. Mr. Wolf nailed an awesome .013 light and paired that with an 11.022 on an 11.00 to stay ahead of the 9.521 on a 9.50 by just three hundredths of a second. James Sorenson was then up against Ron Shelly in the other Vega in the field. Sorenson took a 13 thousandths advantage from the light and stretched it out by another 3 thousandths for the win with an 11.067 on an 11.05 over a 9.670 on what should have been a 9.65 adjusted index for a 16 thousandths margin of victory.
Opening the semi final round was, yep, Marvin Wolfmeier, now taking on Thom Fitch. Mr. Wolf's small block powered Vega was on an 11.00 adjusted index while Fitch's big block powered Mustang was on a 12.80, and though Wolfmeier gave up over 3 hundredths off the tree, his 11.019 caught and passed the off pace pony's 12.938 effort while James Sorenson took the Bye-run into the final.
So, the final had Marvin Wolfmeier going up against the series points leader James Sorenson in the final round for the race points, money, trophy, and a shot at the Southern Championship Series Bounty. Wolfmeier appeared to be at a 2 hundredths performance advantage as he had run 11.019 on his 11.00 the round before while Sorenson had run out his bye-run posting only an 11.089 on his 11.05 adjusted index. But in fact it was Sorenson having the slightest of a 17 thousandths performance advantage as he nailed a perfect 11.050 against Wolfmeier's 11.017 but it was the -.024 red light vs. the .018 green that gave the win to Mr. Wolfmeier.
As always, the final round proved to be a tough match-up and again it came down to the drivers' job at the tree being the deciding factor in who would go home with the bigger payout. Congratulations to Marvin Wolfmeier on his win which puts him just behind James Sorenson in the Southern Championship Series points standings.
Marvin Wolfmeier also grabbed up the Southern Championship Series Bounty on James Sorenson with that final round win and Dustin Passerby collected on the Grand Championship Series Bounty on Mark Ballard with his first round win.
The two American Walk-In Coolers "Best Of" $100 awards went to Joe Dominguez for his .002 first round Best Reaction Time Of Eliminations and to Scott Niles for the Best Losing Package with his .098 second round defeat.
Michael Porter managed to redeem himself after his first round American Walk-In Coolers DragSport Eliminator defeat by going all the way to the final round of the Double Down DragOut Gambler and then coming away the winner.
Congratulations to everybody taking home a prize and Thank You to all who participate in making American DragCar's races so exciting to watch. Thanks also goes out to Jim Hughes, Matt DeYoung, and the rest of the Tucson Dragway crew for hosting American DRAGCAR, and of course to Micro Import service, Inc, American Walk-In Coolers, and the rest of our sponsors for giving the racers something worth while to race for.
Next up on the American DRAGCAR calendar is the Arizona Differential Specialists Central Championship Series Race #4 at Wild Horse Pass Motorsports Park coming up on July 9th. It's going to be hot but it's going to be fun, so be sure to be there, and make sure to Bring Your DragCar!
---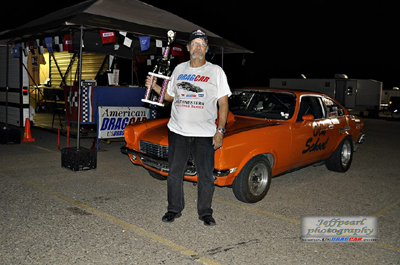 Results - American DRAGCAR, Tucson Dragway / June 18, 2016
Quarter Finals:
Winner: Marvin Wolfmeier, Vail, AZ., '74 Vega, Index: 11.00, RT: .013, ET: 11.022
Runner-up: Joe Dominguez, Safford, AZ., '71 Opel, Index: 9.50, RT: .048, ET: 9.521
Winner: James Sorenson, Elgin, AZ., '73 Nova, Index: 11.05, RT: .045, ET: 11.067
Runner-up: Ron Shelly, Phoenix, AZ., '74 Vega, Index: 9.65, RT: .058, ET: 9.670
Winner: Thom Fitch, Mesa, AZ., '83 Mustang, Index: 12.80, RT: .160, ET: 12.890
Runner-up: Bye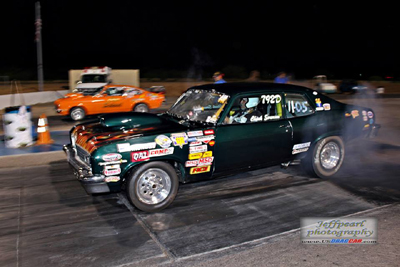 Semi Finals:
Winner: Marvin Wolfmeier, Index: 11.00, RT: .138, ET: 11.019
Runner-up: Thom Fitch, Index: 12.80, RT: .103, ET: 12.938
Winner: James Sorenson, Index: 11.05, RT: .114, ET: 11.089
Runner-up: Bye
Final:
Winner: Marvin Wolfmeier, Index: 11.00, RT: .018, ET: 11.017
Runner-up: James Sorenson, Index: 11.05, RT: -.024, ET: 11.050