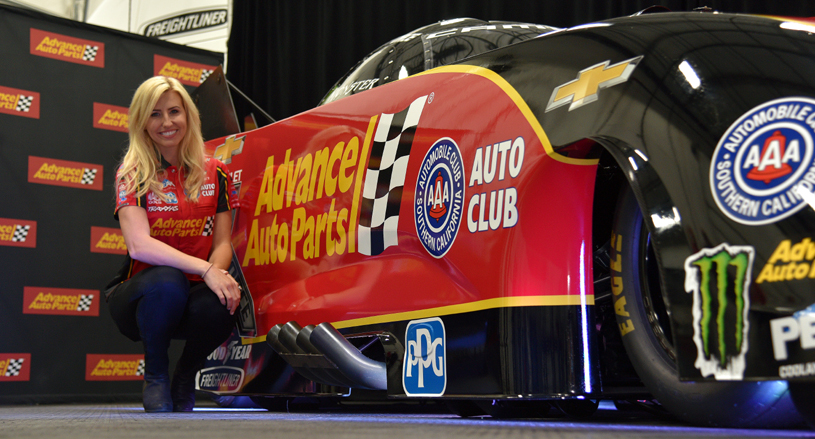 Courtney Force is friendly and personable. When I suggested this shot she happily obliged.
---
While at the 2016 PRI Show in Indianapolis in December, we were invited to John Force Racing's shop in Brownsburg, IN for a press event announcing the new sponsorship of Courtney Force's funny car by Advance Auto Parts. I've made no secret here that I am a huge John Force Racing fan, so this was really special.
I had the chance to speak one-on one with John for a few minutes. I was telling him about a fun video that I produced a few years ago when he was a guest at the PRI Opening Breakfast in Orlando. I told him that I took his best quotes and sound bites from the Breakfast and edited into a "John Force In Under 5 Minutes" video. As I was speaking to him I realized he was just staring at me, not reacting. I thought maybe I was annoying him but I kept describing the video. When I finished, he said (very sincerely) to send him a copy, that he'd like to see it. I then realized that he wasn't getting annoyed at all: he's just so focused. He was listening to every word I said and waited until I was done so that he wouldn't miss anything. I learned a lot about him in that conversation. I also noticed that as I was speaking, not once did he scan the room to see if there were somebody else who he'd be better off speaking with. He was 100% there, in the moment. I am convinced that this is one of the reason that he has become so successful.
Speaking of his success, as you're in his shop seeing the cars and the crew, give thought to the fact that he has created all of this. Then think about this: John Force has developed a professional racing operation on the same level as Don Schumacher and Connie Kalitta, but there's a big difference. Force did it all on his own, from scratch and with no other source of income except what he was able to secure in the form of sponsorship. Connie Kalitta has Kalitta Air, Don Schumacher has Schumacher Electric. John Force has John Force Racing, and that's it. That is why he is so driven. He has fought and clawed his way to the top all by himself.
| | |
| --- | --- |
| | |
| John Force Racing sent shuttle buses to pick us up at the convention center. | Here we are arriving at his shop. |
| | |
| John himself personally greeted each one of us as we entered the building and thanked us for coming. JFR also had a full spread of continental breakfast items and coffee spread out on huge tables, manned by the JFR culinary crew. | The newly-wrapped funny car was on display. |
| | |
| John giving a short talk about the new collaboration with Advance Auto Parts. | Next up was Courtney, who always exhibits poise and grace. |
| | |
| Team photos... | ...and team selfie videos! |
| | |
| Courtney and team getting the star treatment. | As soon as the press conference is over the crew will be back at work, getting ready for the 2017 season. |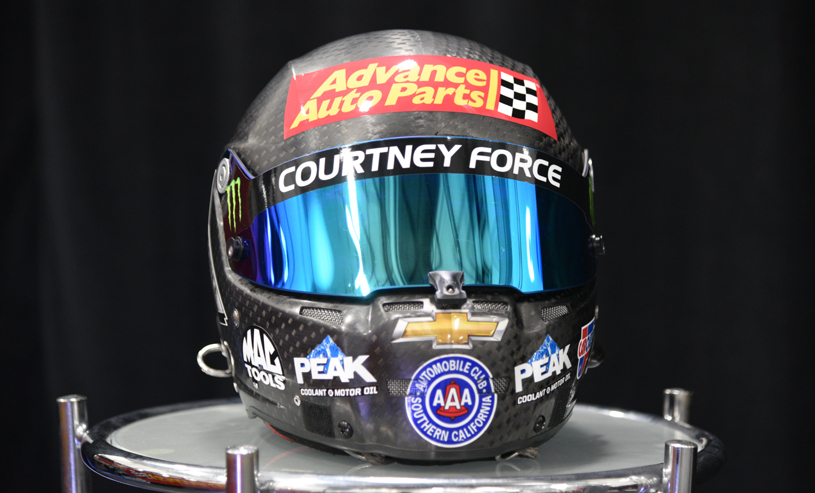 ---
This article is part of our Dragtime News On Location coverage of The 2016 PRI Show, which can be seen in its entirety here.