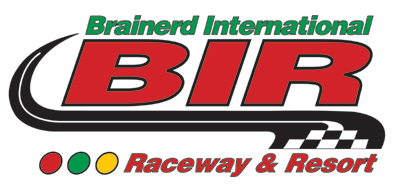 BRAINERD, Minn. -
Brainerd International Raceway (BIR)
released its 2017 racing lineup, a six-month schedule that features some of the most exciting and diverse motorsports in the Midwest.
If race fans want variety, they'll find it at BIR. The 2017 schedule includes drag racing, road racing, Superbike racing, endurance racing, drifting and autocross competition, an Aussie-style cruising event, two weekends for imports and sport compacts, the BIR Performance Driving School and even watercross, where snowmobiles race on open water. It all starts in late April and continues into mid October.
The event that gets the most attention each year is the Lucas Oil NHRA Nationals, which is set for Aug. 17-20. Last year, BIR extended the event by moving Thunder at the Lakes, an NHRA divisional drag race, from early June to the weekend prior to Nationals, and then opened the track for 12 straight days. That allowed fans to watch Thunder at the Lakes and stay on-track until after Nationals. The move proved to be a huge hit for both fans and racers alike, since many of the Sportsman drag racers competing in Thunder also race during Nationals.
"We got a great response last year for making that change," BIR owner Jed Copham said. "We added a MegaWeek ticket package for those who wanted to stay for both events, and sales were much better than we expected. That just proves what we already know about our fans, that they can't get enough NHRA drag racing."
The Lucas Oil NHRA Nationals will again feature the fastest dragsters and best drivers in the world, as they compete for national championships. Off the track, the pit area is open to everyone, and BIR's infamous campground, called The Zoo, provides non-stop entertainment by fans who celebrate the end of the race day with non-stop enthusiasm.
Another improvement that BIR made to last year's schedule was moving the Trans Am Series race from Labor Day weekend to the Fourth of July weekend during the PleasureLand RV Show & Go. That move paid dividends as higher car counts resulted in a second race being added for the TA2 class. So fans were treated to back-to-back 40-lap races, both of which were televised on the CBS Sports Network.
The PleasureLand RV Show & Go is a prime example of an event where BIR tries to use every square inch of its facility for related activities and racing. With the Trans Am Series and the National Auto Sports Association on the road course, the Show & Go also features the Muscle Car Series on the drag strip, a classic car show, live music, on-site camping and fireworks.
The three-race Muscle Car Series is in its ninth season at BIR, with a growing number of muscle cars battling on the drag strip for series championships. BIR's six-weekend Bracket Drag Racing Series is also a growing series for competitive and novice drag racers alike. Both series provide some of the best amateur drag racing anywhere in the Upper Midwest.
The Modern Automotive Performance Proving Grounds is a non-traditional event that continues to increase in popularity at BIR. Scheduled for two weekends again this season (in June and September), the Proving Grounds showcases import cars and sport compacts, which compete in drag racing, autocross, open lapping on the road course and the crowd favorite: drifting.
"We've always tried to load up our schedule with motorsports that most people wouldn't typically have a chance to see," Copham said. "I think we've been pretty successful at that. And for fans, the best part about our schedule is that most weekends have multiple events taking place. One ticket gets you in to see both events, and kids 12 and under are always free. So it's an affordable and fun alternative for fans and families alike."
For those who would rather be on the track instead of in the grandstands, BIR has many racing and driving opportunities, starting with the BIR Performance Driving School. It's a daylong school that mixes classroom instruction with on-track driving where students can acquaint themselves with high performance driving.
The Wednesday Night Drags – Street Legal Style program gives people the chance to drag race on BIR's drag strip. Nearly every racing event at BIR has racing classes for novices and those who are trying the sport. As long as they have proper safety equipment, street cars can be used in most cases by novice racers, to make the experience more affordable.
This summer will be BIR's 49th season. BIR is one of North America's largest race tracks, featuring a world-class quarter-mile drag strip, the 3.1-mile, 10-turn Donnybrooke Road Course, the 2.5-mile, 13-turn Competition Road Course, 300 acres for rustic camping, 164 full-service RV sites and 12 on-site condos. BIR is about 120 miles north of the Twin Cities.
For more information, visit www.BrainerdRaceway.com.