Tony Arcuri
and
Tom Furches
used to live roughly 70 miles apart for more than two decades from the early 1990s until well into the New Millenium. Today, they are geographically much closer to each other. Yet, despite the physical difference, as eager, teen-age street racers, they began what is essentially a lifelong friendship couched around a competitive zeal.
"Their relationship dates back to their high school days," said Ed Arcuri, III, Tony's father and founder/CEO of Rocky Mountain Superchargers ("RMS"), the Colorado-based organization which competes from May through September in eight Mountain and Plains states.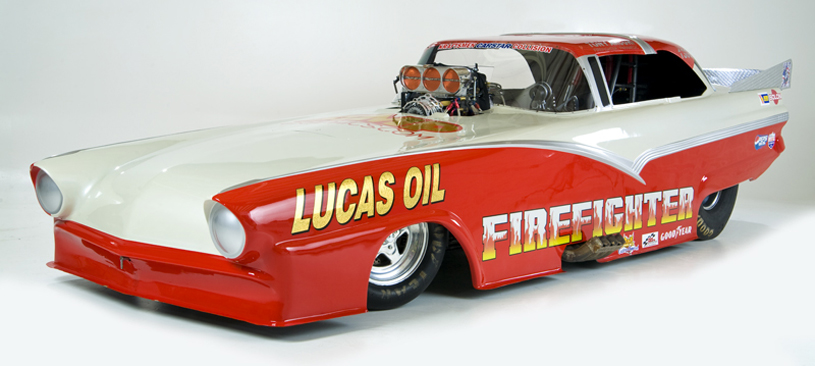 The younger Arcuri and Furches, only seven months apart in age, are the spotlight drivers for RMS in the faster class, Top Supercharged Thunder, along with North Dakotan Jim Chase and another Colorado resident, Scott Dominguez. Tony drives his "Firefighter" Chrysler design, TFX Hemi beauty with a 540 c.i. block, a replicated, 1956 Ford Crown Vic body, sitting atop a 125-inch wheelbase; and Tom proudly guides his pride-and-joy Pontiac Firebird funny car, "Made in America," down the quarter-mile. The alliance was "formed by racing, and we've been bonded by that ever since," Tony Arcuri said.

It was 1993 when Furches, who turned 40 in July 2016, and Tony Arcuri, who was to reach the same age in January 2017, first hooked up. They have been inseparable as friends and competitors ever since. The former was attending Littleton High School, 15 miles southwest of downtown Denver, the latter then a student at Monument's Lewis-Palmer High School, just north of Colorado Springs.
More recently, during the 2016 season, the pair – competing virtually against each other from within the RMS team in Top Supercharged Thunder – have continued a series of weekly match races with blown cars (or injected nitro), with 6-sec. ETs and 200 mph- plus trap speeds; mostly in their own, head-to-head, two-car competition, but occasionally some four-car fields from within RMS ranks, paired against either Dominguez or Chase, who earned RMS Top Supercharged Champion honors in 2014.
Furches took home an RMS award of his own in 2015 – Best Appearing Car, for the patriotic, red-white-and-blue paint scheme on his funny car. The color combination, the crowd-pleasing Furches conceded, "also is designed to entertain the fans."
Typically, in their high-altitude milieu at their "home" track, Pueblo (Colo.) Motorsports Park, their ETs and top speeds are relatively modest on a grand scale, compared to those routinely logged in hotter, more humid weather at lower elevations, yet the two got a more realistic idea of their upper-end capabilities in 2016 when RMS added Kansas International Dragway, at Maize, Kan., north of Wichita, to the racing menu. "(It) opened up a new venue," said Ron Burge, the veteran RMS Competition Director. "There were great races; it's a great facility. The humidity helped immensely, with the heavier air," he added regarding the Kansas strip, where Furches and Tony Arcuri competed twice, consistently burning lower 6's and well over 200 in May's match race and July's round-robin. Most of the 2016 RMS events – in both the Top Supercharged Thunder and the relatively slower (7.5/under-200) Pro Supercharged All Stars -- incorporated the addition of a new sponsor recruited by Ed Arcuri in the Competition Products Challenge.
All that is for the present, though, as they have progressed into guiding jet-fast, nitromethane-powered speedsters after their earlier, less-sophisticated encounters as budding teen-aged speed demons.
Any drag-racing driver evolves "in time to go from street cars to funny cars – learn all the nuances of the drag strip," Burge explained. It is like any sport in which someone excels; those with the talent and desire want to achieve the pinnacle – e.g., football's Super Bowl, baseball's World Series or hockey's Stanley Cup. Some dragsters ultimately ascend to regular bookings as National Hot Rod Association (NHRA) contestants, earning a full-time living with big prize money, exposure on weekly ESPN telecasts and the like. Yet for most, the thrill of being able to increase top speeds, while lowering ETs – all the while making a full-time living elsewhere during the work week – is rewarding enough.
That is exactly the osmosis experienced through the years by Tony Arcuri and Tom Furches, as they never forget those days in the mid-'90s at the legendary Bandimere Speedway, the National Hot Rod Association (NHRA) track tucked into the picturesque red rocks along the C-470 beltway, hard against the foothills of the Rocky Mountains.
When the fellow Chevrolet lovers were competing for the first time, Arcuri was in a Nova and Monte Carlo, Furches in a Camaro. Whereas today each boasts mutli-person pit crews, with more-advanced tools and parts, and veteran crew chiefs – Colorado Springs's Terry Phillips for Arcuri, Conifer's Roger Kuyatt for Furches – it was common as high-schoolers to basically "wing it" and pray.
It made no matter, however, how far apart they were during the school week. Because every Friday night, from Memorial Day through Labor Day for three consecutive racing seasons, they always found themselves at "Bandy."
"We would show up on Friday nights for high school-age races," Tony Arcuri remembered. Although the weekly Bandimere menu for locals also included trophy jackpot, club and various other races, "we couldn't win cash, but trophies, and the champion would get a Frank Hawley Racing Scholarship," he added. Hawley, an NHRA funny car and top fuel legend, operates a racing school in Gainesville, Fla. The street cars the youths were driving at Bandy could not exceed 11.5 seconds ET.
Realizing that perfection never is fully achieved without extra practice, the younger Arcuri – an otherwise law-abiding citizen, and a husband and father who works full-time as an engineer for West Metro Fire & Rescue in suburban Denver – said he and Furches put that principle into maximum motion once while still in their teens. Trouble is, in retrospect, they consider themselves very lucky, since how they did it was technically illegal.
"One time, we had left the race track and went out … and had to go back, and I don't know what we forgot," Tony Arcuri admitted. One of the track employees had just locked the gate, so the driver of today's Firefighter vehicles, both on and off the track, said, "We broke (the lock) and went back in to race the wrong way (backwards)."
Furches, who works for the Miller Coors brewing operation, said, by comparison, the higher speeds and reduced ETs in modern nitro-thrust racing vehicles is no more nerve-wracking than the much slower street "gassers," yet he conceded, "it might be a little more risky." He sometimes – on quick, first glance – is mistaken for actor/martial arts aficionado Steven Seagal, with Furches' thick, dark hair tied back in ponytail fashion, accompanied by a well-trimmed mustache and ring beard.
Rocky Mountain Superchargers competitors relaxed and celebrated during their November 2016 year-end banquet at Colorado Technical University in Colorado Springs. A fine, catered smorgasbord capped off the Competition Products Challenge. Owner/driver Furches was crowned Top Supercharged Thunder Champion. Ed Arcuri said Furches' consistency gave him the season title, while Furches credited his Kuyatt-led crew. Crew Chief honors in Top Supercharged went to Bismarck, N. Dak., race car builder Joe Wetsch.
Consistency was the watchword for the Pro Supercharged/All Star winner Matt Nissen, as well. Racing out of his Auto Kreations shop in Alma, Neb., Nissen and his crew attended every race and either won or finished in the semifinals to secure the points lead. Despite having to watch California's Greg Means top Rickey Weeaks of Roswell, N. Mex., in the season-ending Colorado Fuel and Gas Championships at Pueblo on Sept. 24, Nissen's championship was ensured with his semifinal finish at that event. Honored for his technical expertise was Pro Supercharged Crew Chief of the Year Tim Smith. Smith, a Lincoln Tech instructor and brother-in-law of television star/bounty hunter Duane "Dog" Chapman, has made the popular "Last Starfighter" Dodge Challenger of Steve Stracener a car to beat at each Rocky Mountain Superchargers race. After smiles and handshakes all around, the Superchargers headed home to ready their cars for 2017 and season No. 8.
Visit www.rockymountainsuperchargers.com.
Text & photos submitted by Phil Ross
---