How many times have you heard somebody proclaim that drag racing needs to be fixed? Maybe you've even said it yourself. Surprisingly enough, even though those cries can still be heard on a weekly basis, drag racing has been fixed; it's just that very few people have yet to realize this to be true.
If you're an Arizona drag racer, you've undoubtedly heard of American DRAGCAR. But unless you are a DRAGCAR racer, you likely don't know all that there is to know about this one of a kind organization. Even after 6 years of statewide competition, there still are racers asking what it is and how it works. Unfortunately, the complexity of the rules when you start to read into them tends to scare today's racers off into the bracket lanes but the actual goal of DRAGCAR is to revive the original "first one there wins" concept while opening up the competition to racers of all racing budgets and at the same time restoring the spectator appeal that may bring people back into the stands of the local weekend events.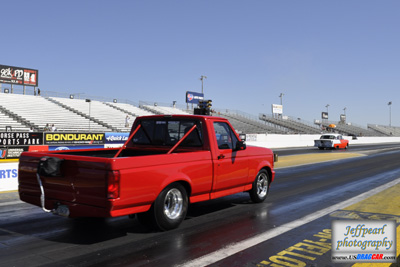 During its first 10 years, drag races were won by the racer reaching the finish line first, period. But over the past 50 years, drag racing's original "first one there wins" premise has slowly been chipped away to the point that virtually 90 percent of all drag racing competitions are today contested on a breakout format where nearly 50 percent of all races are actually won by the racers NOT getting to the finish line first. Is it really any wonder why the stands are empty at the local Saturday night bracket races? Drag racing has become no longer an exciting exhibition of power so much as it has just been turned into a fun game of numbers. How many people really care about crunching the numbers when they are supposed to be watching a race? People just want to see racers racing all out to get to the finish line first, and racers want to do just that. That's why the outlaw craze has taking off so wildly in recent years.
In truth, there are now only about 4 options available to racers who want to race in a non-breakout format, and all 4 are quite expensive. First and foremost we have Pro racing where $100,000-$200,000 vehicles are needed along with multi-million dollar seasonal budgets in order to stand a chance at a season championship. But in these categories (Top Alcohol and Pro Mod included), the type of vehicle options open to racers are very limited, so if you don't want to run one of those types of vehicles, you don't have a class. Then we have the more recently popularized Outlaw racing where you still need a $50,000-$200,000 vehicle along with who knows how much of a racing budget may be needed to compete at anywhere from a local or regional level to the national level. But again, your choice of vehicle types and engine combination is still quite limited as you will need to bring with you as much as everybody else has in the way of cubic inch, aspiration, and vehicle weight. Now more recently, No-Prep Outlaw racing has started to take off nationwide and while these competitions are sometimes being won by the racer bringing less horsepower to the table, they still require sub 9-second capable vehicles which, while quite less expensive then the typical 6 and 7 second Outlaw cars, they are still not really affordable to a great many racers, and again, there is a limitation to the types of vehicles being accepted into this lane of non-breakout drag racing. And of course there is Comp Eliminator which claims to be a Sportsman category but the truth of it all is that it takes a $100,000-$200,000 vehicle to qualify in the field and likely almost as much as a Pro racer's budget to compete at the national level. So where does a racer go who has a 3600 pound Chevelle with a mild 355 small block that runs high 11's, or the racer who has a nicely built tube chassis naturally aspirated 565 big block Beretta that runs 8.60's but is a dedicated drag car having not one consideration for street use? Are these racers to be forever relegated to the handicap and heads-up breakout brackets?
American DRAGCAR says "NO"! DRAGCAR is where racers of any type of vehicle and racing budget can actually drag race in true "first one there wins" fashion without having to tolerate the game of the breakout. And with its 2 very different non-breakout formats available to racers, DRAGCAR's DragCar Eliminator and SportComp Eliminator formats can accommodate virtually any racer's preferred competitive preference with both being aimed at bringing true drag racing action back to the Saturday night tracks.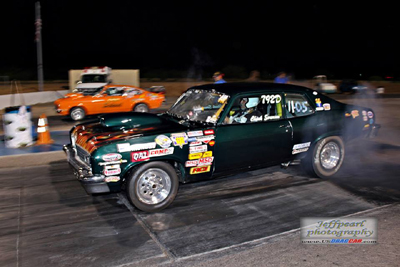 The original DRAGCAR format is DragCar Eliminator which maintains a class racing atmosphere where racers compete on fixed indexes set by their vehicle's modification level having absolutely no penalty or disqualification policy put on them regardless of how fast they run so long as they are running legally with only the modifications being claimed. Because of the need to enforce for correctly claimed modifications however, this category requires racers to submit to vehicle inspections so, take the bad with the good here but it does allow for racers to not only compete on the track as they compete in the shops too as they work to create the best power producing combination they can from what they have. Since racers are on a fixed index set by their vehicle combination, they compete to be the fastest (furthest under-index capable) competitor in the field just as class racers did back in the '60's. But DRAGCAR's class indexing formula eliminates the big budget advantage that has slowly killed IHRA and NHRA class racing. In DRAGCAR's DragCar Eliminator, a racer with a $20,000 car and a $5,000 a year racing budget can actually compete on a level playing field with the racer having a $200,000 car and a 2 million dollar a year budget with money having no impact on who will be favored to win.
But then there is SportComp Eliminator which works on an entirely different premise that combines the liberties of bracket racing with the excitement of old school class racing where getting to the finish line first was and is still the only goal. Here racers are put on adjusted indexes that are established directly from their own qualifying times of the day and then they race on those indexes just as a bracket racer runs on a dial-in. The difference here is that the first one to cross the finish line is deemed the winner even when that racer runs under their adjusted index. But there are re-indexing penalties for running under-index and that's what works to deter racers from wanting to run under-index. Here the ideal performance level is dead-on the index rather than going far under so it's much like bracket racing in the sense that being consistent is key to winning races. You just don't see the games that you tend to see at your typical breakout competitions being played in this category. So in DRAGCAR's SportComp Eliminator, a racer having driven his $5,000 14-second weekend toy can actually compete against that other racer having the $200,000 race-only drag car in a true "first one there wins" drag race with again, money having no bearing on who is more likely to be the victor.
Whether you are the racer who really wants to race or the spectator who just wants to watch actual racing, American DRAGCAR has the drag race for you. For more information, visit www.usdragcar.com.
Text and photos submitted by Jeff Sefranek, American DRAGCAR