(Article begins on the Home page HERE)
Numidia Dragway's AHDRA Event was Homecoming for Rich Vreeland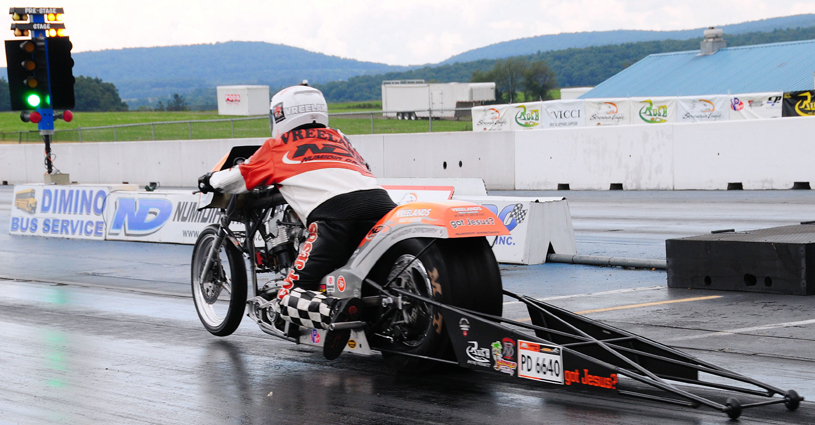 When Numidia Dragway played host to the All Harley Drag Racing Association (AHDRA) Liberty Nitro Nationals recently, not only did riders from all across the country converge on the popular ¼-mile strip, but so too did local favorite Rich Vreeland of Danville, PA. Now in his eighth season as a professional motorcycle racer, Vreeland's return to Numidia served as a homecoming where he began his career. His business, Vreeland's Harley-Davidson, was the presenting sponsor of the event which drew a very respectable crowd and a full pit area of bike racers.
"This is my home track, it's my sponsor's track and our dealership is just seven miles from here so it's all my family and all my friends, it's a lot of fun this weekend," said Vreeland while in between rounds on Sunday. "We're really blessed that (track owner) Bob DiMino has this beautiful facility here and we're very fortunate in that we can bring world class motorcycle racing to Columbia Country. The attendance for today is phenomenal and it's been building every year and I hope we can come back and do it again." Vreeland competes in two classes, Pro Drag Nitro and V Rod and he did the hometown crowd proud by making it to the final round in both. Carrie Seifert Tate of Bakersfield, CA, pulled off an upset in Pro Drag Nitro while Jim Sweet from Osceola, IN nipped Vreeland at the line in V Rod.
Motorcycle drag racing is a very special breed of competitor. In the Top Fuel division riders are topping out at nearly 230 mph. Vreeland usually maintains runs at around 170 mph with the Pro Drag class and 150 mph in V Rod. "With the Nitro Pro Bike we're all within a couple tenths of each other and it's always very competitive. But to me that's what makes it fun. No one is dominating and every time I go out there I have a chance to win," he explained. "We strap on a bulletproof vest before we go out and ride. We need to have confidence in our team, our motors and in myself. I drag raced gasoline bikes for eight years before I jumped on a nitro last year."
Reaching speeds near 180 mph on a motorcycle over a distance of a quarter mile may seem perilous to many but to Vreeland and his counterparts, they make it look rather cool and calm. "To be honest a fast run is easy. It's the slower runs that are hard. When that bike gets planted and it's going straight it's a joy to ride. It's when things don't go right that makes it difficult," he said. "I would rather go 7.25 (seconds) at a 180 mph than 8.01 (seconds) and 150 mph. It's a lot harder to go slower."
Prior to taking on the AHDRA circuit, Vreeland was involved in several levels of NASCAR including being on a Nationwide Series pit crew and as a Modified car owner with then driver Chuck Schartzer of Nescopeck. After stepping away from the stock car scene, he took to racing for himself and it's been quite a ride, crisscrossing the country with a national touring series. Being a dealer of Harley-Davidson's led him to become part of the AHDRA.
"Being in the motorcycle business, it was just a natural thing to get back into. We were actually involved with the AHDRA before our days with NASCAR. My brother Ray ran with them in the '80's and when we got out of the NASCAR stuff I had always yearned to race something." Unlike his time with NASCAR, Vreeland tours the country in a much different manner.
"When I was doing the NASCAR thing we flew everywhere. All we saw was the airport and the race track. Now that we are driving to the races, we stop off and check out all the sights. We recently stopped at Yellowstone on the way back from Oregon. It's a nice time to have our family along, it's racing and vacationing. It can get hard on us but what you see is that we have such a beautiful country."
In 2011 Vreeland was the AHDRA Rookie of the Year in Pro Drag Nitro. His wife, Patty, was named AHDRA Lady of the Year and his team was won Best Appearing of the Year. Earlier this season Vreeland had been a factor for the title in V Rod but instances have since changed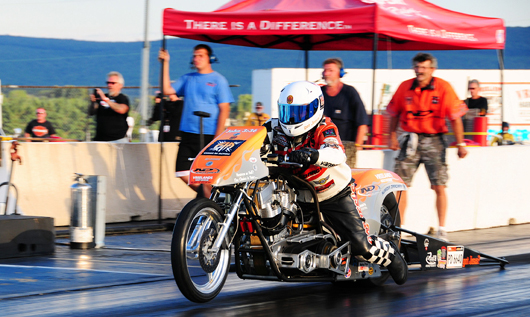 those expectations. "I was a contender and had been running for the championship this year. I was second in points and probably the favorite to win the championship this year and that was the first time in my whole career that I had been considered the favorite to win the whole thing," he said.
"There were some circumstances with a canceled race and I had a commitment somewhere else and I pretty much gave the championship away. But there will be next year.
"I've had some accomplishments as a pro and if the Lord wants me to be champion then I'll be champion. This year just wasn't the deal. The races that I'm at, I'm there to win and I'm going to be competitive. If financially and physically I'm able to be at every race and run for a championship, I will."
Text by Dino Oberto; photos by Joe Kaminski, Jr.