(Article begins on the Home page HERE)
MASCA Crowns 2 New Winners at Race #s 5 & 6 at Atco Raceway
Atco Raceway – Atco, NJ – Kevin Scholl and Ken Moses became the newest winners of the Mid Atlantic Super Comp Association (MASCA) on July 7th & 8th at Atco Raceway in Atco, NJ.
On Saturday Joey Cambria from Shillington, Pa took the #1 qualifying spot with an 8.903. Cambria was followed closely by Doug Doll Jr (8.908), Frank Lauria (8.911), Mark Kelly (8.916) and Mike Nahill (8.920). So as race #1 got underway it would be Kevin Scholl from Eagleville, Pa and his '95 S&W Dragster standing tall at the end of race #5. Scholl started off his day with a victory over Marty Jones Jr, Ken Moses, received a bye and matched up with last year's co-champion Jeff Livezey Jr. in the semi-finals. Jeff made it easy for Kevin as a .007 red-light ended his shot at victory. On the other side of the ladder was # 1 qualifier Cambria and his Bushwacker Body Gear 2003 Ken's Kustom Dragster. Cambria received a bye in the 1st round due to the uneven amount of cars, took down Tom Dauber in the 2nd and Mark Kelly in the 3rd. With the weird layout of the ladder Cambria then received another bye into the final round against Scholl.
As the finalists rolled into the water and staged Scholl got the slight advantage over Cambria (.009 vs .017). Cambria made up the starting line advantage as they roared down track but, just broke out 8.899 to Kevin's winning 8.949. Scholl became the 5th different driver to win this season but, the list was not complete for the day as one more name would be added before days end.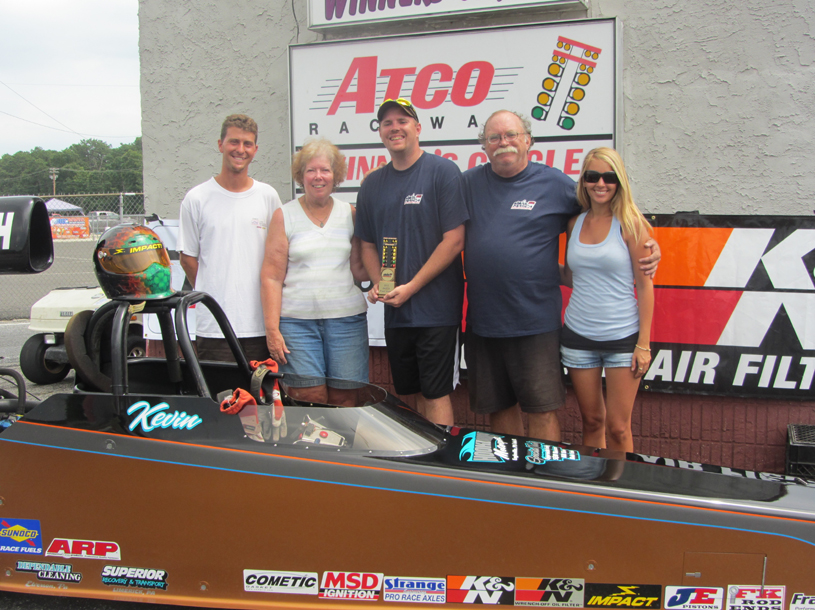 Soon after the dust had settled from race # 5, race # 6 got underway. Marty Jones Jr. took the number 1 spot with a 8.908. Following Jones was points leader Ken Moses (8.909), Tom Dauber (8.913), Dave Long (8.923) and Frank Lauria rounded out the top 5 (8.925). As said before race #6 would see yet another new winner as points leader Ken Moses would finally seal the deal and extend his points lead.
Moses in his 2010 American Dragster started off his day with a victory over Jack Donnelly, then a fouling Cambria, a bye-run in the 3rd and then a match-up with the top qualifier Jones Jr. Jones would punch Ken's ticket to the final round with a .007 foul as Ken ran it out to a 8.899. On the other side of the ladder was Race # 1 winner Don Butkiewicz and his 2011 Racetech Dragster. Butkiewicz took down Dauber in the 1st round, then Bill Hardifer and Maple Grove Runner-Up Dave Layne in the 3rd that earned him a bye-run to the finals. So the final was set and we would either see a new winner or see our 1st double winner of the year. At the flash of green Moses took a huge advantage over Butkiewicz (.013 vs .046) and Kenny padded that advantage even though Butkiewicz made it close with a 8.906 to Moses winning 8.921.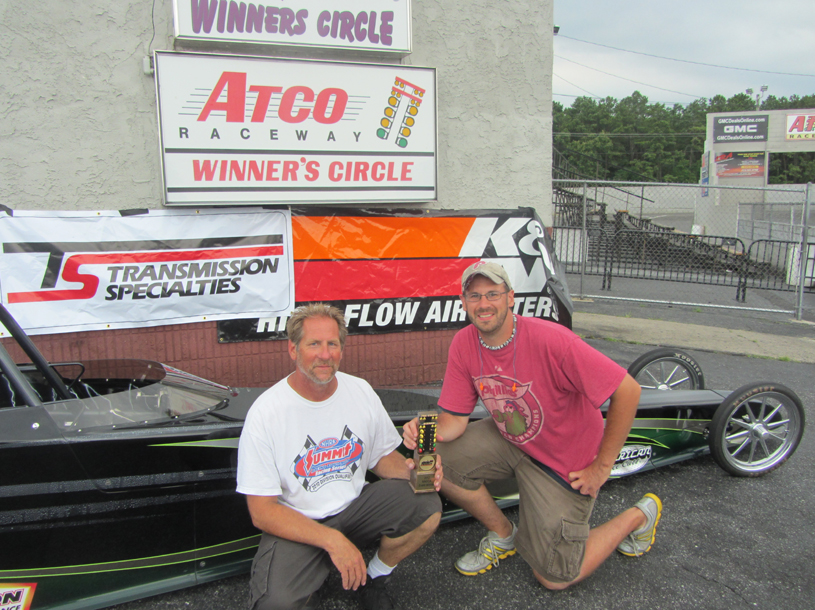 MASCA will close out the season at Atco Raceway on September 29th & 30th (the week before the Maple Grove National Event).
Written and submitted by Rob Keister