(Article begins on the Home page HERE)

Meyer, Moshier, VanDenHeuvel and Dirosato Win Wallys at Maple Grove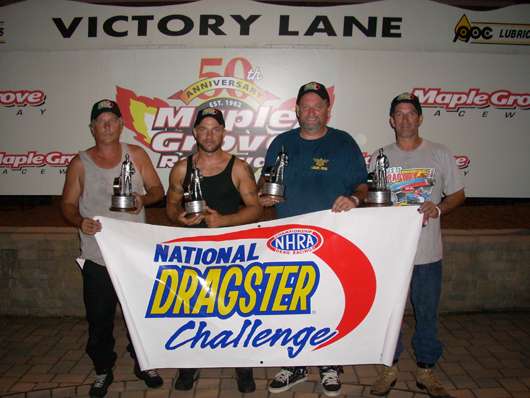 MOHNTON, Pa. – It was a long Saturday at Maple Grove Raceway with racing running well into the night. And that was a good thing. A total of 315 cars – the most for a bracket race at The Grove since early in the 2009 season – took part in Sunoco Race Fuels Money Trail 15, which was combined with the National Dragster Challenge. At the end of the night, Brock Moshier (Pro Eliminator), Ed Meyer (Super), Michael VanDenHeuvel (Street) and Ralph Dirosato (Top Bike) all took home special Wallys, while Jimmy Fizz (Junior Dragsters) and Melissa Stiles (Trophy) were also winners.

The win was especially sweet for Moshier (Lititz, Pa.) as he collected his first victory of the season in his 1971 Vega and also earned the special 50th Anniversary Trophy that drivers coming to The Grove have been craving all season. He earned the win with a close final against Denny Renninger (Leesport, Pa.) with a pass of 9.048 seconds at 130.62 mph that was only .01 over his dial-in. Renninger ran well in his '63 Corvette, but was .02 over.

To get to the final, Moshier had to beat Erin Thimm (Mohnton, Pa.) in the semifinals. He ran well, going .04 over the dial-in with a pass of 9.080 at 128.95, but Thimm broke out by .01 giving the nod to Moshier. Renninger had a bye run.

In Super, Meyer (Carlisle, Pa.) used a great reaction time and followed through with a run of 7.554 at 176.01 in his '07 Precision dragster. Runner-up Lou Vasger (Langhorne, Pa.) broke out by .02 in his dragster to clinch Meyer's win, though it would've been tough to overcome the .01 Meyer went over on his dial. Meyer defeated Mark Price (Collegeville, Pa.) in the semifinals with a great run of 7.545 at 173.34 that was .005 over his dial-in and featured a .005 reaction time. Price broke out by .01. Vasger advanced with a bye run.

VanDenHeuvel (Elkton, Md.) won his second race of the season in his '84 Cutlass, taking down Paul Werner (Sinking Spring, Pa.) in the final. It was a double-breakout run in the final, but VanDenHeuvel got the nod by going only .02 under with a run of 11.492 at 107.07, while Werner was .04 under with an 11.463 at 113.19. Both drivers faced contested semifinals. VanDenHeuvel beat Andy Anderson (York, Pa.), who left the starting line too early. Werner beat Phil Williams (Mohrsville, Pa.) despite getting a slower start off the line as Williams broke out.

Dirosato (Oxford, Pa.) came up to Maple Grove for the day in his '03 MX and left with some hardware. He defeated Danny Boyer (York, Pa.) in the final with a pass of 12.172 at 109.34 that .05 over the dial-in. Meanwhile Boyer was .07 over with a good run of 10.280 at 123.59. Dirosato had a bye run into the finals, but Boyer needed to beat Wayne Smith (Chatham, Pa.). Boyer had a pass of 10.180 at 121.89 that was more than enough when Smith broke out.

In Junior Dragsters, Fizz (Pottstown, Pa.) earned his third victory of the season, holding off a hard-charging Matt Witkowski (Elverson, Pa.) in the final. Fizz in a '01 Halfscale went 7.960 at 78.21 on the eighth-mile, beating his dial-in by .003. Witkowski had a similar result, but Fizz won it with a better reaction time.

Fizz had to beat Kelsey Brinckman (Boyertown, Pa.) in the semifinals and also used a better RT to get the advantage. The race was settled when Brinckman broke out. Witkowski had a bye run.

Stiles (York, Pa.) got through the largest Trophy field in quite a long time. In the final, she drove her '83 S-10 to Victory Lane after Bob Witmer (Clearfield, Pa.) fouled at the start.

Stiles made the final when Zackary Tempesco (Reading, Pa.) drew a red light in the semifinals. It was the same for Bob Witmer as Kenneth Witmer (East Earl, Pa.) fouled.

RESULTS - Sunoco Race Fuels Money Trail 15/National Dragster Challenge

Super Eliminator: Ed Meyer, '07 Precision, .007 reaction time, 7.554 seconds, 176.01 mph def. Lou Vasger, '96 S&W, .047, 7.393, 181.57.

Pro Eliminator: Brock Moshier, '71 Vega, .032, 9.048, 130.62 def. Denny Renninger, '63 Corvette, .041, 12.238, 108.16.

Street Eliminator: Michael VanDenHeuvel, '84 Cutlass, .014, 11.492, 107.07 def. Paul Werner, '80 Malibu, .006, 11.463, 113.19.

Top Bike: Ralph Dirosato, '03 MX, .165, 12.172, 109.34 def. Danny Boyer, '72 Kawasaki, .170, 10.280, 123.59.

Jr. Dragster: Jimmy Fizz, '01 Halfscale, .047, 7.960, 78.21 def. Matt Witkowski, '09 Halfscale, .091, 9.077, 70.89.

Trophy: Melissa Stiles, '83 S-10, .168, 13.595, 100.01 def. Bob Witmer, '69 Camaro, foul - .067, 13.235, 80.26.

Text written and photos submitted by Evan Jones