Enfield, CT., July 28, 2012 – Rich Hanna set a new track record on July 28th at Muncie Dragway. Hanna, driver of the GOJO Firebird Jet Funny Car, appeared at the annual New Muncie Dragway 'Night of Fire.' In the first round, running against Florida's Mike DeWitt, Rich set the stage by immediately breaking into the 5s with a 5.95 run @ 268 MPH. In the final round of the Night of Fire, Rich made a single in an attempt to get the track record. After the chutes deployed, the times appeared on the board: a 'New' Muncie Dragway track record was established - a 5.84 @ 271 plus. Afterwards, fans lined up at the Hanna Motorsports trailer to get Rich's autograph and thank him for making the trip to Muncie. It was a great night at a famous track for track owners Kevin and Susan White, Rich Hanna, the Hanna Motorsports Jet team and all the great Muncie fans.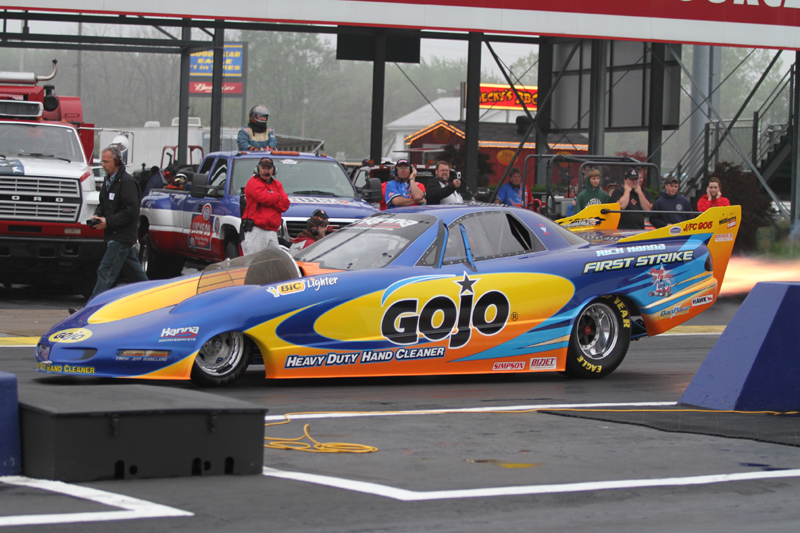 Muncie has quite a history in drag racing as all the top nitro funny cars appeared at Muncie Dragway in the early days of touring nitro cars. Al Hanna, Rich's father and the owner of Hanna Motorsports Jets, ran an IHRA event at Muncie Dragway in 1973 in the Revell Eastern Raider Pinto nitro funny car, qualifying in the field and losing in a close side-by-side run in the 2nd round to Pat Foster, driving Barry Setzer's Vega .
The Hanna Motorsports Jets Team next appears at Lebanon Valley Dragway, Quaker City Raceway, and Summit Motorsports Park.
HANNA MOTORSPORTS is a 47-year professional exhibition drag race company. Hanna Motorsports is dedicated to safety, showmanship, and performance in fielding three of the finest professional exhibition machines in the nation. The Hanna Motorsports team cars, the "GOJO Firebird", driven by Rich Hanna, the "Top Secret" Firebird, driven by Ken Hall, and the GOJO/BIC Lighter "Queen of Diamonds" 300 MPH Jet Dragster, driven by Jill Canuso, are recognized as one of the top teams in history. Actively participating in professional motorsports since the mid-60's, Hanna Motorsports became incorporated in 1978 by President Al Hanna and wife, Ellen. Along with Al and Ellen, sons Scott and Rich joined the program with support, and a ton of hard work. Al & Ellen Hanna are both "Hall of Fame" members in New England. Since the inception of the very first Hanna Motorsports machine, Hanna Motorsports has fielded nearly 50 professional drag race cars in multiple categories including Top Fuel Dragster, Nitro Funny Car, Jet Dragster, Jet Funny Car, and Super Stock. Hanna Motorsports' jets continue to lead the pack in the jet car category. The three-car team of the fastest and quickest jets in the nation, if not the world, continues to astound fans everywhere. For more information visit www.hannamotorsports.com or call (860) 745-1870. (Queen of Diamonds photo: Don Carrick)