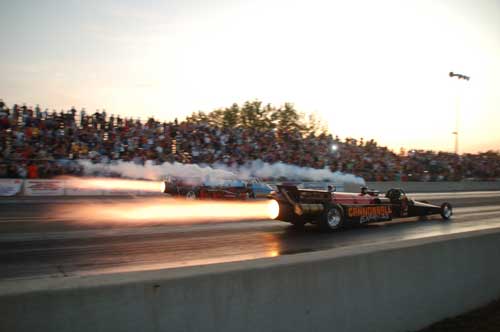 TIOGA CENTER, N.Y. -- On Saturday, August 18th, thousands of area race fans from all over the northeast will once again convene at Skyview Drags, the IHRA-sanctioned dragstrip in Tioga Center, N.Y. for what has become the sport's most popular jet and fire show, namely Skyview Drags "Night of Fire Jet Jam" with three jets booked in for the show. Additionally, as an added attraction, Skyview Drags event director Amy Culver has added four Pro Mods that will also do battle in addition to the hotly contested IHRA Summit Series bracket stars, which will feature six classes of racing from Super Pro and Pro to Street Eliminator and Bike/Sled. "We want the fans to be more impressed than ever, and there's nothing better than booking in four wild Pro Mods to add to an already wild jet show," said Culver. Culver also noted that Skyview will present a special "Jet Jam" prelim show at Friday, Aug. 17's Test & Tune. Already booked for a night of fun are the "Star Boyz," who do everything on a motorcycle that you're not supposed to do. As seen on Travel Channel's "Sturgis" episode, the "Star Boyz" do 100-mph wheelies, 600 ft. "stoppies," mind blowing smoke bomb burnouts and many more motorcycle acrobatics (see www.starboyz.com for more).
Headlining the event Saturday, Aug. 18 is none other than the master of the jet fire show, Bob Motz in his jet powered Kenworth truck. Developing 20,000 jet-inspired horsepower, Motz is one of the most popular attractions in Skyview Drags history, and fans are eagerly awaiting his return after a one year absence. Motz will again thrill the fans with a fire show of unprecedented, heart stopping excitement as fans can be sure they will go away from the track that night "pure electrified." Will he "torch" track owner George Swansboro's tower for a fourth time? According to the area fire company, where all member will be in attendance with the truck, the odds on favorite response is a resounding "yes!" Promoter Amy Culver, however, doesn't stop with just one jet feature for the fans. Also on tap are two more jet attractions in the popular KC and Linda Jones jets, driven by KC and Bill Dempsey. Featured will be the "Chattanooga Choo-Choo" and the "Cannonball Express", "both fan favorites and run under the name "Team Steam. The "Team Steam" jets are each powered by Westinghouse J34-34 "Banshee" jet fighter engines producing 6,500 pounds of thrust.
For fan safety, Culver recommends bringing ear plugs as these jets, which are fiberglass bodied train jet dragsters, will put on a show featuring train sounds and thundering jet performances. When the afterburners kick in, hold on to your hats as they go side-by-side three times during the show! In addition, the IHRA Summit Series/Interstate Auto point series racers will compete. The extravaganza continues with four Pro Mods from the Upstate Pro Mod Series.
Rounding out the show will be the full complement of IHRA bracket racing, featuring Skyview's talented weekly racers competing in Junior Dragster, Super Pro, Pro, Street, Trophy, Teen Championship and Bike/Sled classes. The regular weekly racing starts at 11 a.m. for the Junior Dragsters, and then the other six classes of competition will follow at approximately 1 p.m. The "Night Of Fire Jet Jam" will take be presented in three specific shows at 6:30 p.m., 8:30 p.m. and 10 p.m. Gates open at 9 a.m. for those looking to spend the full day at the track. Admission for this special show is $20, with children from ages five to 10 only $5. Kids under 5 are admitted free. As always, there is free parking on the grounds, and all families are welcome as Skyview is a family-friendly track. The track is also noted for its excellent concession stands, where burgers, dogs, pizza, ice cream, refreshments and much more await the guests. All tickets include a pit pass to meet the drivers and see the vehicles. "We're expecting the largest crowd of the year for this show," said Amy Culver. "We've got a great lineup of special attractions, and I know the fans will enjoy it." For more information, visit Skyview Drags at www.SkyviewDrags.com call (607) 687-9392.