(Article begins on the Home page HERE)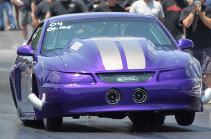 GORDON WINS OUTLAW 10.5 AT CECIL COUNTY
Billy Gordon won his second race in 10.5 Outlaw at the Street Car Shootout in Cecil County with an awesome 4.23 @ 192 in the final in the August heat! Billy went 4.31 @ 184 MPH to take the #1 spot in Qualifying, and posted runs of 4.30 @ 187, 4.30 @ 188, 4.21 @ 191, before defeating Anthony Disomma in the final with a 4.23 @ 192! Gordon's winning combination includes an ATI Superglide 4 Transmission, ATI Outlaw Converter, Super F ATF and ATI Super Damper.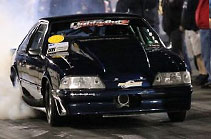 X275: BRUDER vs MARINIS in an All-ATI Final
It was an all ATI final in the X275 class at Cecil County. #1 qualifier Dean Marinis versus #2 qualifier Rich Bruder. Bruder had the quickest pass in qualifying with a 4.80 @ 150, until Marinis put in a late run of 4.79 @ 151 to take the #1 spot for himself. A recent rule change meant that Bruder was running a F1R blower instead of his usual F1X, but that didn't seem to slow him down as he set a new F1R record in round 2 with a 4.76 @ 151 MPH! After going 4.76 @ 151 in the semi-final, Dean Marinis lined up in the staging lanes for the final round - only to have to bow out with a coolant leak - handing the victory to Bruder, who now has SIX wins in a row! Both cars are equipped with a host of ATI products: Rich Bruder is running an ATI Superglide 4, Outlaw Converter, and Super Damper, while Dean Marinis has a Superglide 2, Outlaw Converter, Billet Aluminum Valvebody, Super Damper and Super F ATF.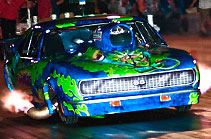 RIESTERER TAKES RUNNER-UP AT ZMAX
Doug Riesterer had to settle for Runner-Up spot to Al-Anabi Racing's Shannon Jenkins in the ADRL Pro-Nitrous final at ZMAX Dragway. Doug posted a blistering pass of 3.836 @ 195.20 in the quarterfinal, but ran into problems in the final and lost out to Jenkin's 3.87 @ 194 MPH with a 4.23 @ 148 MPH. Doug is currently running an ATI Outlaw Converter with an ATI Bruno conversion kit. He holds the record for quickest and fastest Converter driven car in ADRL's Pro Nitrous class.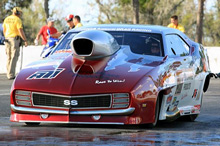 CHRIS RINI GOES QUICKEST IN LOSS
At the NMCA Muscle Car Nats at Bowling Green, 2010 Pro Street Champion, Chris Rini had the quicker ET with a 6.08 @ 245 MPH in the final, but lost out to Clint Hairston's 6.11 @ 241. It was all down to the reaction times and Hairston got the holeshot win with a .015 RT to Rini's .055.
Chris Rini's Pro Street Camaro is packed with ATI's Lock-up Superglide 4 and Outlaw Converter combo, running Super F Synthetic Fluid and an ATI Super Damper.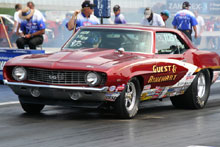 MARTY RINEHART RUNNERS-UP AT ATCO
Marty Rinehart and his '69 Super Stock Camaro took Runner-Up spot at the NHRA Division 1 event at ATCO Raceway. Marty's Camaro is equipped with an ATI ProGlide Trans with ATI SuperBell and SuperPlate flexplate, as well as a Treemaster Converter, Super F Trans fluid and Super Damper.