(Article begins on the Home page HERE)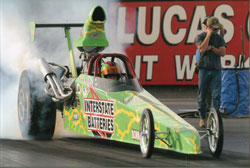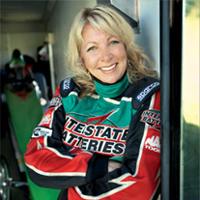 NHRA Super Comp drag racer Tina Stull has joined the 2012 Fireball Run Adventurally; Northern Exposure as one of this year's Celebrity Teams in the Race to Recover America's Missing Children. The FIREBALL RUN Adventurally is a national live event and film series, headquartered at Universal Studios. The 8-day, 14 city, 2,200 mile interactive road rally and entertainment property supports the Race to Recovery of America's Missing Children; the largest active recovery effort for missing and exploited children in the country. Each team is assigned a missing child from their home region along with thousands of posters to distribute along the route. A decal featuring the child is affixed to the vehicle, creating a rolling awareness campaign. To date, the effort has assisted in the recovery of 38 missing children.

Due to the signature cause of raising awareness for missing and exploited children, FIREBALL RUN and the Race to Recover America's Missing Children has always had a strong following of women, especially mothers. In honor of our female followers, the 2012 Adventurally is celebrating women in professional sports.

FIREBALL RUN selected Tina Stull to represent women in racing. In addition to being an accomplished racer, cancer survivor and motivational speaker, Tina is a strong female role model who believes in helping people overcome their obstacles and living their dream. "As a veteran myself, I identified with Tina's commitment to the troops, and coupled with her professional excellence and desire to help others, it made her a natural choice for the FIREBALL RUN," said JJ Sanchez, Executive Producer of the Fireball Run.

FIREBALL RUN is an opportunity for strong role models and their supporting brands to engage fans at live events as well as through social media. Tina Stull is supported by Interstate Batteries and will be raising awareness for the recovery of missing 2-year old Sarahi Sanchez-Garcia, from San Marcos, Texas. "We know Tina will bring the same spirit and desire to the Race to Recover America's Missing Children she does to her own winning career." said EVP, David Hickman.

Locals, fans and the media will be welcomed to meet the teams in each destination. Fans nationwide will be able to watch live on FireballRun.com/LIVE beginning Friday, September 21st as the 40 character-driven teams and their unique vehicles begin arriving in Independence for Saturday's pre-rally events and the exciting green flag start 10AM Sunday, September 23rd.

The rally will continue to be streamed online courtesy of LiveStream and tracked via RealTrack GPS as the participants rally through Wellsboro Pennsylvania, Jamestown, Watertown and Schenectady New York, as well as Waterbury Connecticut and Ogunquit Maine, until its dramatic conclusion and parade finish Saturday, September 29th in Bangor Maine.