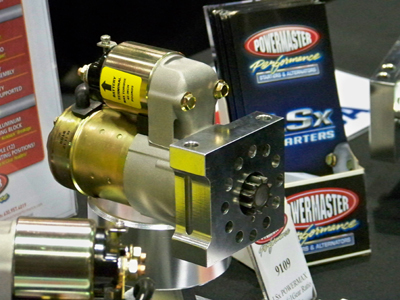 Powermaster Performance unveiled this new GM LS starter, the LSx PowerMax (part # 9109). This beefy unit features steel gears, a 6:1 gear ratio for more torque, a heavy duty clutch assembly, a heavy duty bearing support, a billet aluminum mounting block to guard against kickback breakage, and 12 mounting positions to clear headers.
Other products debuted by Powermaster include a new high-amp Mopar alternator (in 115, 150 and 200 amps) and their direct-fit, high amp LS alternators.
Visit www.PowermasterPerformance.com for more information.